The UK's tax authority, Her Majesty's Revenue and Customs (HMRC), announced a joint operation with French authorities on Wednesday. According to the Press Association news agency in the UK, Newcastle's managing director Lee Charnley was arrested as part of the operation.
Across the two countries, 180 officers were involved in a series of raids connected to the football industry and suspected tax fraud.
"HMRC has arrested several men working within the professional football industry for a suspected Income Tax and National Insurance fraud," HMRC said in a brief statement. "National Insurance" is a part of the British tax system, paid in part by employees and in part by employers. It is used primarily to fund state benefits.
"Investigators have searched a number of premises in the North East and South East of England and arrested the men and also seized business records, financial records, computers and mobile phones," it continued.
West Ham is based in London in England's southeast, Newcastle is in the northeast near the Scottish border.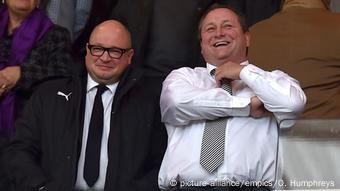 Newcastle's managing director Lee Charnley (on the left next to club owner and billionaire Mike Ashley) was reportedly arrested in the raids
West Ham issued a statement saying that the club was "cooperating fully with HMRC to assist their enquiries."
Blow for Newcastle after promotion to Premier League
The tax agency statement did not elaborate on who had been arrested in the operation, which also involved raids in France.
"The French authorities are assisting the UK investigation, have made arrests and several locations have been searched in France. This criminal investigation sends a clear message that, whoever you are, if you commit tax fraud you can expect to face the consequences," HMRC said.
"As this is an ongoing investigation HMRC is unable to provide further detal at this time," it concluded.
Both Newcastle and West Ham have purchased players from French clubs in recent years. But HMRC's initial information did not hint at the reason for the raids beyond the suspicion of tax evasion.
Relegated from the English Premier League last season, Newcastle secured an immediate return to the top flight on Monday night. A 4-1 win over Preston North End guaranteed a top-two finish for Rafa Benitez's side.
West Ham, meanwhile, sit 14th in the Premiership table - still in theoretical danger of relegation but seven full points clear of the drop zone with just four games left to play.