The controversies over the 2022 World Cup in Qatar have been going ever since the Gulf state was awarded the bid in 2010. Allegations include rigging the original vote and human rights violations in the building of stadiums.

Qatar's Foreign Minister Khalid Al Attiyah defended the country during his appearance on Deutsche Welle, saying the country puts "human rights first" and was "transparent from day one."
He also went on the offense. It wasn't just a matter of how Qatar acts but more a matter of how the world views the nation of Qatar.
"Some people from your region cannot digest that a small country like Qatar, an Islamic country, in the Middle East, can host the 2022 cup," he said.
This, even as Amnesty Internationalreports that Qatar "failed workers." And the country has been slow to make substantial reforms to improve conditions in hotels and on building sites.

Most pressing, however, are the bribery allegations that could see withdrawal of the 2018 and 2022 World Cups awarded to Russia and Qatar. But Al Attiyah was not swayed by the ongoing corruption scandal at FIFA.
"Nothing can scare us in Qatar," he said, "because we have presented the best file for the 2022."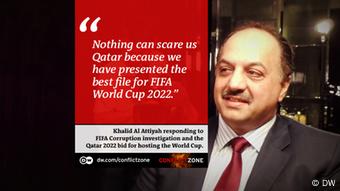 Before he became a politician, Al Attiyah worked as a fighter pilot with Qatar's airforce, founded a law firm and served as the President of the National Committee for Human Rights at the same time. After being Minister for Business and Trade, he was appointed Minister of Foreign Affairs in Prime Minister Abdullah bin Nasser Al Thani's cabinet in 2013.

'A lack of strategy' in Syria
Qatar has played a major role in the Syrian crisis by helping rebels battling to overthrow Assad. With Russians now in Syria to support Assad, Sebastian asked Al Attiyah if the strategy of supporting rebels has failed.
"Maybe we have a lack of strategy," Al Attiyah said, "but not a failed position because our position is firm: we supported the Syrian people."
The level of support from Qatar for rebels has been estimated to be in the billions of dollars. A Financial Times investigation from 2013 reported that Qatar had "seized control of the Syrian revolution", and earned a role in Syria that seemed "uncharacteristically prominent for a country that lacks the diplomatic experience and traditional heavyweight status of a more discreet Saudi Arabia." Through the end of 2012, the paper estimated the worth of arms contributed to Syrian rebel forces at between $1 and $3 billion.
"Some of us lack the trust the people of Syria can rule and can have the Syria which they want," Al Attiyah said, "the Democratic Syria."
Affiliations with extremist groups
It's not just Syria. Qatar has also come under scrutiny for affiliations with extremist groups. Sebastian confronted Al Attiyah with some of the allegations around funding for terrorism coming out of Qatar, like the US Under-Secretary for Terrorism and Financial Intelligence, David Cohen, who said in April of last year that private fundraising for terrorism in Qatar went unchallenged.
"I know you have your own views on who is a terrorist and who isn't, but the use or threat of violence, often indiscriminate, in support of political or other aims is a reasonable starting definition and this is what Hamas does, doesn't it?" Sebastian asked, continuing. "But you continue to call them a 'resistance movement focused on liberation'. Why?"
"Because they are," Al Attiyah responded. "They never came out of Palestine seeking, you know, seeking to do wrongdoing outside Palestine."
"They do plenty of wrongdoing in Palestine," said Sebastian.
"They are legitimate," Al Attiyah said. "They came through ballot. If you disagree with me then, okay, we can discuss this. They've been elected by their people."
To see the whole interview, check out Conflict Zone on October 21.