Thousands of protesters congregated in several areas of Kuala Lumpur on Saturday ahead of the planned rally, during which huge crowds are expected to march to demand the resignation of Prime Minister Najib Razak.
Najib has been facing public outrage over a multi-million-dollar payment made to a bank account under his name.
Security is expected to be tight for the rally, which is due to run until Sunday evening. Police were reported to have blocked access to one square where protesters intended to converge.
A local news portal reported that the army might intervene if the crowds get out of hand, and a state of emergency could be declared. However, a military spokesman declined to comment on the report. The police, meanwhile, have declared the rally illegal and have banned online information about the event, while authorities have urged people not to join the protest.
Kuala Lumpur authorities rejected an application by pro-democracy group Bersih for a permit to protest, setting the stage for a possible showdown with security forces. Police used water cannon and tear gas to disperse protesters at Bersih's last big rally in 2012. The activist group has also called for rallies in the cities of Kota Kinabalu and Kuching on the Malaysian side of Borneo.
The wearing of yellow
Ahead of the protests, Malaysia also banned the wearing of any yellow clothing which contains the word "Bersih", according to the German news agency DPA. Bersih, the Malay word for clean, refers to the Coalition of Free and Fair Elections. The coalition is comprised of 84 non-governmental organizations calling for a thorough reform of the electoral process in Malaysia as well as transparency in government.
But the director of independent pollster Merdeka Center, Ibrahim Suffian, said discontent with Najib, who took office in 2009, was concentrated in urban areas, adding that a national survey this month showed a slight majority were opposed to the rally. Najib also reshuffled part of his cabinet to ensure he had supporters on his side while weathering the storm.
Najib under investigation
The 62-year-old leader ran into trouble in July when it was reported that investigators had launched a probe into the "1Malaysia Development Berhad" (1MDB) debt-laden state fund. A payment of more than $600 million had been traced to an account under the premier's name.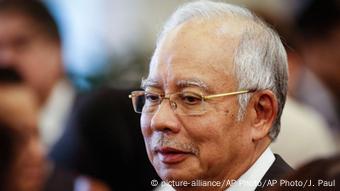 Criticism of Najib has come even from within his own party
Malaysia's anti-graft agency had verified the funds were a donation from the Middle East, which came just before a 2013 election. On August 3, it said it would ask Najib to explain why the donation was deposited into his private account.
The prime minister's fiercest critic, former leader Mahathir Mohamad, this week said he did not believe the money was a donation and called again for Najib to go. The premier denied any wrongdoing. Opposition parties, meanwhile, have filed a lawsuit against the prime minister.
ss/lw (Reuters, dpa)