As many as half a million people turned out along Alameda Avenue in central Santiago on Sunday to complain that many retirees are being left destitute by the current pension system, organizers said. Several smaller protests were also held in other cities.
Protesters waved Chilean flags and banners calling for the current system, set up by late dictator Augusto Pinochet in the 1980s, to be dismantled.
The huge turnout for Sunday's protests follows similar recent marches, calling for education and labor reforms.
Fabled retirement system
Chile's use of individual savings accounts has been modeled by dozens of other countries, and is often hailed internationally as a superior system to most other public pension systems. But critics have said the average pension is currently around $400 (353 euros) a month, less than the minimum wage.
Pinochet promised that retirement benefits under a privatized system would reach 70 percent of workers' last paychecks, protest leaders said. But on average, workers receive about 35 percent of their preretirement earnings after contributing 10 percent of their salary throughout their working life.
The private administrators manage about $170 billion in assets. Any losses on investment are borne by the contributors.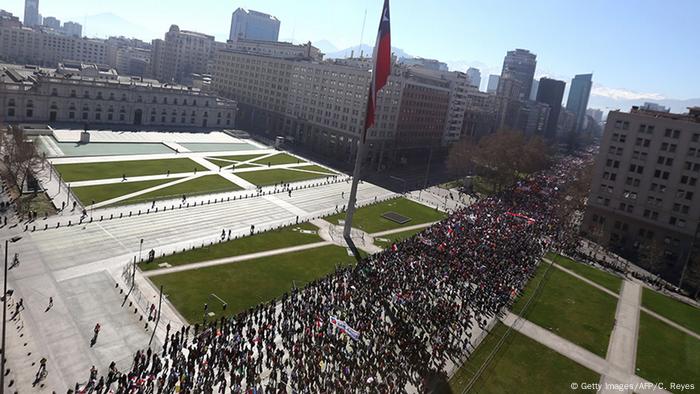 Thousands of people protested close to the presidential palace in Santiago
Facing pressure to overhaul the system, President Michelle Bachelet announced a package of reforms two weeks ago.
The new proposals would mean companies would make an additional 5 percent contribution to the system on behalf of each employee.
Self-employed workers would be gradually forced to join the scheme, while commissions paid to those managing the system would be cut. The scheme would also guarantee a higher universal minimum pension.
Alternative scheme mooted
Bachelet also promised to push for the creation of a public pension fund to give workers an alternative to the private system, in which around 10 million Chileans are enrolled.
But critics say the proposals don't go far enough and won't help current retirees.
Despite winning a second term in 2013, the country's first female president has been weakened by a corruption scandal, which has seen her popularity drop to 15 percent.
Much of the policy framework created during Pinochet's brutal dictatorship, which lasted from his 1973 military coup until 1990, still remains in place today.
mm/sms (AFP, Reuters)