Ukraine's Western-leaning opposition seemed headed for a shared victory on Monday, Oct. 1, over pro-Russian Prime Minister Viktor Yanukovych's Party of Regions in a tightly-contested election.
Initial results indicated that the party of former premier Yulia Tymoshenko, which grabbed 32.1 percent of the vote, could secure a governing majority with pro-Western President Viktor Yushchenko's Our Ukraine party, which polled at nearly 16 percent.
But Yanukovych's pro-Russia Party of Regions, long at odds with Yushchenko, has not conceded defeat. With 77 percent of votes counted, Yanukovych's party was in first with 32.3 percent of the votes, the country's elections committee reported Monday in Ukraine's capital, Kyiv.

Yanukovych's party, which had a lead in exit polls before election night, received support in the Russian-speaking eastern part of the country and the south of Ukraine.

After a pro-Western so-called Orange Revolution in 2004, Ukraine has seen an ongoing struggle between Yanukovych's pro-Russia parliament and pro-European president Yushchenko. The country has been in virtual gridlock and constitutional crisis since March 2006.

"Orange Coalition" possible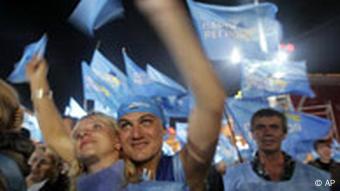 Orange isn't the only color in Ukranian politics
Yushchenko's Our Ukraine National Self Defense (OUNSD) party had gotten 15.58 percent of votes as of Monday morning. Tymoshenko's party has said it would form a coalition with OUNSD. This potential pro-Western coalition of parties, brought into power by the Orange Revolution, would be dependent on support from a third party, as was the case after the March 2006 parliamentary elections.

"We will wait for the vote count to be completed and then we will form a democratic coalition," Tymoshenko said. "We can and will form a majority."

The Orange Revolution began in November, 2004 with Ukrainians staging massive protests against what they considered rigged election results which favored Yanukovych's pro-Russia party. The results were eventually annulled and another election was held, which Yushchenko won. But since then, Ukraine's government has been in near-constant crisis as pro-Russia and pro-European forces have clashed. In April, Yushchenko ordered the parliament dissolved and early elections held. His rival Yanukovych defied the order.
The latest political crisis between Yushchenko and Yanukovych began on April 2, when the prime minister defied orders from the president to dissolve parliament and hold early elections.
As the power struggle escalated, thousands of protestors held rival rallies in Kyiv.

European leaders hopeful election will end crisis
Tymoshenko said she was confident she would be part of the next Ukraine government
International powers, including Russia and the European Union, expressed concern at the crisis and urged both sides to refrain from any use of violence.
"We hope that the results of these elections will be quickly implemented so that we can continue working with a stable government, and that the reforms in Ukraine can make headway," a spokeswoman for the EU's external-affairs commissioner told reporters.
Europe has been watching developments warily, worried that the ongoing political crisis could fatally weaken the democracy movement in Ukraine. But the EU has refrained from direct intervention, hoping the current elections would solve the gridlock.

British daily, The Independent declared on Monday that the Orange Revolution was "faded but not finished." The political stand-off seems to have been solved by constitutional means, the newspaper reported, and these elections seem to have been fair.

Also, the "media freedom and economic confidence triggered by the Orange Revolution still flourish. So long as there is no turning back in these crucial respects, orderly politics can perhaps be given a little more time," the newspaper said in an editorial.

Difficult negotiations expected in forming coalition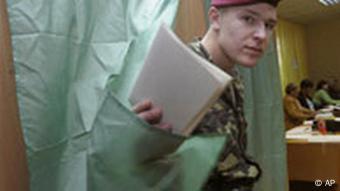 A Ukrainian soldier casts his ballot Sunday
Even if supporters of the Western-leaning opposition win a majority, difficult negotiations are expected in forming a government coalition after the election. Tymoshenko was confident her party would be part of the next ruling coalition.

"I believe no one can diminish or deny the victory Ukraine has scored," she told reporters. "Everything will work out. In a matter of weeks we will hold our first government news conference."

Ballot counting began immediately after polls closed Sunday. In past national elections, final results became known the next day or two days after the initial vote. These results could be further delayed by a power failure in Kyiv, which temporarily put the voting commission's central digital data system offline. The power failure was being investigated by Ukraine's secret police, according to local media.

Turnout was around 60 percent of registered voters.

Yanukovych not conceding yet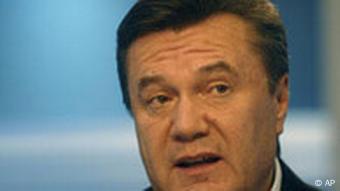 Yanukovych isn't conceding defeat
Exit polls Sunday had showed Prime Minister Yanukovych's party in the lead and he also remained confident that his party would be called on to form a government.

"This significant support from the Ukrainian people...gives carte blanche to the Party of Regions to form a new, successful government," Yanukovych said. "As winners of this election -- and I am certain we have won with a strong result -- we have the right to form a coalition."

Adding to the election's uncertainty is that votes from about 15 parties that scored less than 3 percent of votes will be redistributed among the winners.

The centrist bloc, which had run on a platform of criticizing both the ruling coalition and the opposition, seemed poised to clear the 3 percent barrier needed to win seats in parliament. The party's head Volodymyr Lytvyn said he was not sure which of the camps he will support.

An analyst expected the centrist bloc to first make overtures to pro-European parties.