"I christen you Louis Arthur Charles" — the Archbishop of Canterbury, Justin Welby, is bound to say something along those lines to the three-month-old royal baby on Monday afternoon. That much is to be expected. But of course, there will be more to the ceremony, and the British tabloids — in high gear anyway since the marriage of Prince Harry and Meghan Markle — have been speculating for weeks about the details surrounding this next big royal event.
The foremost question seems to be, what will the Duchess of Cambridge wear? OK magazine took a close look at Kate's outfits at recent church events, and figures she will wear a cream or light lemon-colored knee-length skirt and a jacket, subtle but pretty.
It is clear what little Louis, who was born on April 23, will wear: the same christening gown that all Windsor babies wear, the exact replica of the dress Princess Victoria, the daughter of Queen Victoria and Prince Albert, wore in 1841.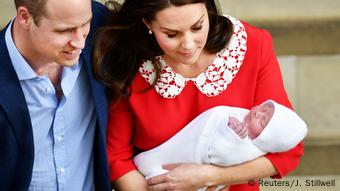 Newborn baby Louis with his parents
Precious baptismal font
Louis' christening is to take place at the Chapel Royal at St. James' palace, where his older brother George was baptized in 2013. His sister Charlotte, 3, was christened in 2015 at the church on the Queen's Sandringham estate. The Daily Express found the reason given for the latter rather disappointing: William and Kate simply happened to live near that church.
However, Charlotte's royal head was held above the very same baptismal font, the Lily Font, that is used in royal christenings. The gilted silver font, worth about 12,500 euros ($14,605), features cherubs, ivy and lilies.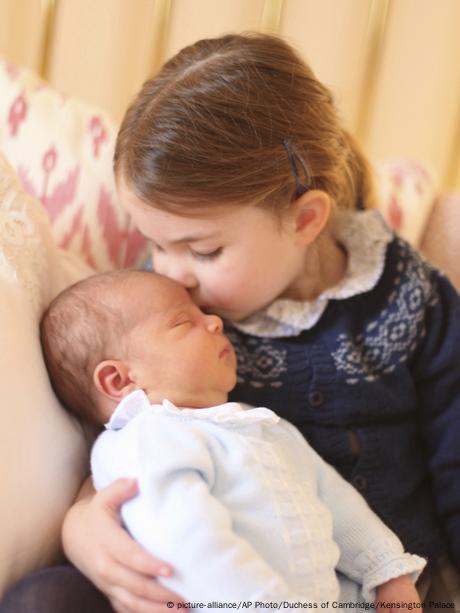 A kiss from big sister Charlotte
The Daily Express also wondered whether Louis' christening will be public — 28 years after the baptism, also at St. Mary Magdalene Church in Sandringham, of Princess Eugenie, Prince Andrew's daughter. "She remains the first and only member of the monarchy to have had a public royal baptism," the Daily Express said, quoting a former family butler as saying he wouldn't be surprised if this christening is private.
Who are the godparents?
So who gets to attend? That is another big question. The Romper portal has this list: Prince Charles and his wife Camilla, most probably the Queen, as well as Harry and Meghan — though the couple leaves for Ireland the next morning, which appears to be regarded as a long-haul journey in Britain. Then, there's the entire Middleton family. Will Louis' 97-year-old great-grandfather, Prince Philip, be there? The ceremony is possibly too much of a strain.
The palace announces the godparents on the day of the christening. Who will it be? Speculation is rife. Hello! magazine leans toward William's former nanny Tiggy Legge-Bourke, and Miguel Head, the prince's former private secretary. Heart radio station guesses it could be David Jardine-Paterson, a friend of William's, whose wife Emilia is Prince George's godmother.
So, many questions remain unanswered. There is one thing Romper is certain of, and that is, everyone is looking forward to seeing little Prince Louis again on July 9."

Check out our picture gallery for more cute royal babies.