Relations between Kenya's lawmakers and the media could take another dramatic turn for the worse as a bill restricting reporting on parliamentary proceedings heads towards a third reading in the National Assembly.
The bill introduced by member of parliament Adan Keynan has been condemned by local media as "one of the most brazen attempts to limit the freedom of expression."
The legislation envisages stiff fines or jail terms for anyone who publishes "false or scandalous libel" about parliament, its committees or proceedings. It stipulates the need for "approval by the speaker or chairman of a committee before proceedings are broadcast."
Yet these draconian measures received backing from most Kenyan lawmakers in parliament on Wednesday. Opposition member of parliament Augustine Netto told DW that there were "issues" with journalists. "Sometimes you end up with journalists who do skewed reporting for their own ends," he said.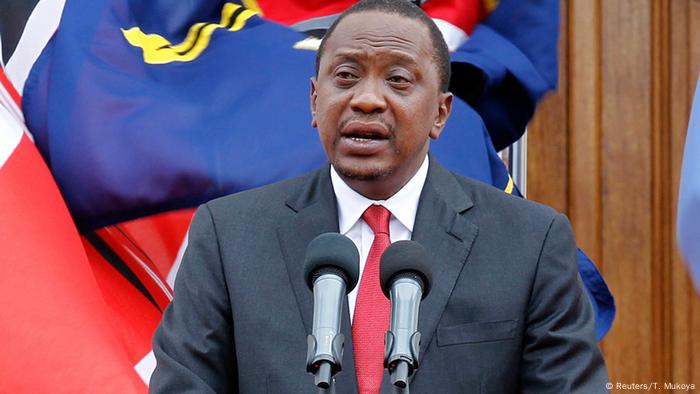 President Kenyatta's coalition has introduced several bills calling for harsh fines and jail terms for journalists
But even the government conceded that the bill had its opponents. Johana Kipyegon, member of parliament for the ruling Jubilee coalition said there are a few people who "always work against proposals to limit the scope of the media."
Opposition member Abdullahi Diriye Mohamed who told DW Kenya had achieved democracy and the media played a very important role "so there is no way we can allow the gagging of the media."
Human rights activist Maureen Viata stressed that the media were a critical partner when it came to highlighting stories of human rights violations.
"If they gag them that means that our stories will never be aired and survivors will never get justice," she said.
Keynan, the lawmaker behind the bill, has promised to introduce amendments during its third reading, local media say.
The media rights group Committee to Project Journalists reported last month that President Kenyatta Jubilee coalition has introduced several bills calling for harsh fines and jail terms for journalists since coming to power in 2013. It said security and anti-terror operations, state spending, land deals and corruption were the "most sensitive topics most likely to get journalists into trouble,"
James Shimanyula in Nairobi contributed to this report