An unusually harsh winter has turned most of Berlin's sidewalks into uneven ice rinks that people tread at their peril. The scores of resulting injuries have been front-page news in the local papers.
But that didn't stop a brigade of reporters from packing a pressroom on a recent Monday morning. It was standing room only as a thousand souls gathered for this year's first news conference of the Berlinale, one of the world's highest-profile film festivals.
The way the blitzing cameras clustered around the speakers, you'd think George Clooney had just walked in. Before festival director Dieter Kosslick and his team of coordinators announced this year's coming attractions, we were treated to a short film montage celebrating sixty years of the festival with all its inherent contradictions.
Black-and-white footage from the late 1950s shows a post-war Berlin still knee-deep in rubble and guilt, yet determined to define itself as "a window to the free world." An ebullient Mayor Willy Brandt inaugurates the film festival in triumphant spirit, proclaiming, "Berlin will live!" As locals swoon at movie stars wandering through town without limousines or bodyguards, an excited news anchor declares the Berlinale a people's film festival where audiences, and not just juries, can vote for their favorite movie.
When Brandt served as German Chancellor during the Cold War, his open-door policy helped the Berlinale anchor itself as a platform for east-west dialogue, a tradition that still endures in a united Europe. Add the buzz of celebrity culture, and you get a curious cocktail.
Red carpet city
When the archived snippets gave way to a chapter dubbed "Vanity Fair," a few movie stars played themselves: sheer icons of egotism. In one outtake, a subtitled French actor declares, "Since my mother blessed me with such good looks, I would have been a fool not to pursue a film career."
Cut to a clip of Jack Nicholson, who extolls the aesthetics of his derrière and suggests a rear-end shot for a poster about his latest film.
Vanity aside, the Berlinale is a serious undertaking, and it's matured impressively in 60 years. With 400 films and over a quarter of a million tickets sold, the eleven-day event is a world unto itself - a cinematic lens to zoom in on the rest of the planet.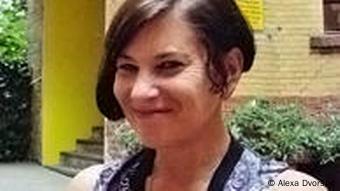 Alexa Dvorson says the Berlinale has matured impressively
In 1971, a German film with gay subject matter caused a scandal; today, gay and lesbian films have their own prize category at the festival's awards ceremony.
Once chided for not being international enough, the festival is screening films from 130 countries this year. Even neighborhood movie houses, whose earnings always shrink during the film festival, will be red-carpet venues this year.
All this requires supreme organization and a lot of legwork. When a reporter asks about the festival's funding, Kosslick responds with a Swabian saying: "When the candles cost more than the birthday cake, you have to reconsider a bit."
But thanks to some new sponsors, the candles have been lit. For a cool 18 million euros ($24 million), the Berlinale offers a fine diversion from Germany's financial woes.
Author: Alexa Dvorson
Editor: Neil King