Not far from Guimaraes' beautiful city squares and historic facades is a crumbling industrial district. The gates and doors of abandoned factories are covered in thick foliage and secured with weighty locks. It's a desolate scene in a long-deserted quarter.
Then the eye is drawn to a large, brand new black structure: The Center for Art and Architecture Affairs (CAAA). Once a textile factory, it has been transformed into an artists' haven.
"Guimaraes is my hometown," said Ricardo Areias, whose idea it was to convert the old factory. The young architect lived and worked in New York for a short time, but he and his wife were searching for a project back home in Portugal. The European Cultural Capital designation gave them that opportunity.
Areias' wife did what many art enthusiasts in Guimaraes do and joined forces with seven artist friends to form an association. The group rented the factory building and renovated and expanded the complex. Local businesses were keen to lend a hand and many donated building materials, while local Cultural Capital organizers ensured that filmmaking equipment was made available to the center.
Center for creativity
Surrounded by scaffolding and accompanied by the distant sounds of a hammer and a circular saw, the new center feels a little like an improvised set, on the threshold of completion. Piled in one corner is a large collection of books waiting for the library to be completed. The Yehuda Safran Library is named after one of Areias' New York professors, who is also a benefactor of the project.
In just a short period of time, Ricardo Areias and his team have achieved a great deal and the young architect is proud of his efforts.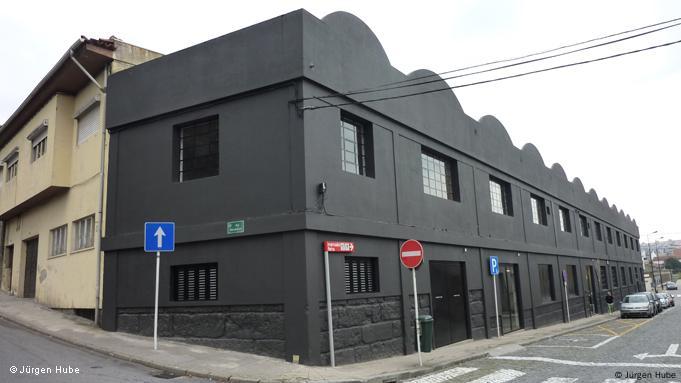 The Center for Art and Architecture Affairs was the brainchild of the Areias family
So far, a stage, exhibition spaces, digital art studio, offices and two suites for artists in residence have been completed. Most areas are already fully used and booked out for the months ahead. As one exhibition comes to a close, there is just time to prepare for the next. Theater groups want to rehearse here, filmmakers have signed up for productions and a nucleus of artists is busy creating paintings and sculptures.
The aim is that the center might help break down the boundaries that separate different forms of artistic expression. "Success is when everyone is productive," said Areias, adding that he hopes people will feel at home at the center and not restricted.
Guimaraes is not New York
Constructing a center for modern art and architecture in the middle of a small town so dominated by Portuguese history was a big risk for the couple. Ricardo Areias knows that Guimaraes is not New York, but he is optimistic. He says locals want to experience something new and unusual. He hopes the year of being a European Capital of Culture will also offer new opportunities.
"If it had not been for this event, it would have been pointless to open this center," he said. "This event heightens our awareness. We need the European Year of Culture as a motivation and an engine. Then the city will gradually begin to change."
Sound and rhythm
The Academy of Music, which has a long tradition in Guimaraes, could be another bearer of change. Academy students scurry around in this hive of activity, rushing from one class to the next with violins and music scores under their arms. Music of every kind drifts from the century-old building to the streets below, delighting passersby. Academy Director Armindo sa 'Cachade proudly noted nearly 500 students attend the institution, where they receive instruction from 50 teachers.
Once a shelter for the city's underprivileged, sick and disabled, the Academy building later became a refuge for single, impoverished women. Wandering around the building, its past is evident in the narrow, clumsy classrooms where the paint has peeled from the walls. The director's office, which he shares with his colleagues, is tiny and crammed with books, music, computers and worn furniture.
The Music Academy is a private organization that receives no regular public funding and there is no money for much-needed renovations. But sa 'Cachade looks to the future and dreams of a new, spacious and modern building.
"It's fun here. It is small, but it's a good school," says a group of girls gathered in the auditorium, listening attentively as two classmates rehearse. These girls would like to become piano teachers or flautists in an orchestra. They dream of the world's great concert stages - or, perhaps, of a teaching position at the Academy.
Taken to heart
These students will play an important part in the 2012 Cultural Capital celebrations, for which several concerts with special programs and an opera are planned.
Academy director sa' Cachade says he hopes this year as a Cultural Capital will open up possibilities beyond the city's borders. But he also says he doesn't need to promote or advertise the music academy. Each year he is overwhelmed by people wanting to study there and has to turn many away - evidence enough that music has secured a special place in the heart of this city.
Author: Cornelia Rabitz / bos
Editor: Kate Bowen