Arrangements for Pope Benedict XVI's first official visit to his home country are under way, after the pontiff accepted the invitation of German President Christian Wulff.
The pope will travel to the archdioceses of Berlin, Freiburg and Erfurt in late 2011, according to a statement from the German Episcopal Conference.
Archbishop Robert Zollitsch, the chairman of the conference, said the visit would be "an important moment in the life of our country."
"I am firmly convinced that he will be a strong inspiration for many people," Zollitsch added.
First official visit
The planned visit will be Benedict's first official trip to Germany, although he made appearances in Cologne while it was hosting World Youth Day in 2005 and in his native Bavaria in 2006.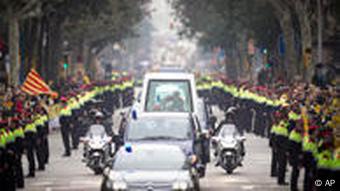 Thousands of people are expected to pay tribute during a state visit
The invitation was extended by Christian Wulff in October.
"It is a particularly special pleasure and honor for me and many people in our country to welcome the Holy Father to his home country in the 60th anniversary year of his ordination to the priesthood," Wulff said.
The election of then cardinal Joseph Ratzinger in April 2005 to succeed the late Pope John Paul II was a source of great pride in Germany - which is about 30 percent Catholic.
The last official papal visit to Germany was by Pope John Paul II in 1996.
Sexual abuse victims still waiting
The pontiff is likely to receive a cooler reception from German victims of sexual abuse by priests of the Roman Catholic Church. Not much has been done after Zollitsch announced in September that the church was preparing compensation payments for abuse victims.
The German church has admitted it had failed to properly investigate claims of abuse, simply moving pedophile priests to another diocese instead of reporting them to the police. The pope himself has faced allegations that he, as Cardinal Joseph Ratzinger, failed to act against molesting priests while he was heading the Vatican morals watchdog.
Author: Catherine Bolsover, Sarah Steffen (AFP, AP, epd)
Editor: Martin Kuebler