Pope Benedict XVI has said in a new book that using condoms may sometimes be justified to stop the spread of AIDS.
The comments appear to soften the Vatican's strong opposition to condoms on the grounds they are a form of artificial contraception.
Benedict said that for male prostitutes - for whom contraception is not a major issue - condoms are "not a moral solution." But he said they could be justified "in the intention of reducing the risk of infection."
The pope made the comments during 20 hours of interviews with German journalist Peter Seewald. The remarks will be published in Seewald's new book: "Light of the World: The Pope, the Church and the Signs of the Times." The Vatican newspaper published some excerpts of the book ahead of its release on Tuesday.
The pope was asked by Seewald whether the Catholic Church is fundamentally against the use of condoms.
"It of course does not see it as a real and moral solution," the pope responded. "In certain cases, where the intention is to reduce the risk of infection, it can nevertheless be a first step on the way to another, more humane sexuality,"
Against church teaching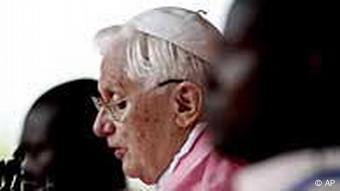 The pope caused an outcry in 2009 over comments about fighting AIDS in Africa
Until now, the Vatican has prohibited the use of any form of contraception, even as a barrier against sexually transmitted diseases.
The hard-line stance has drawn international criticism. Last year, when Benedict visited AIDS-ravaged Africa, he told reporters the disease was a tragedy that "cannot be overcome through the distribution of condoms, which even aggravates the problems."
In the new book, the pope says that in certain cases using a condom may be the first step towards taking responsibility, using the example of male prostitutes. He reiterated that it was "not the proper way to deal with the horror of HIV infection."
Benedict made it clear that the comments were not intended to weaken the church's fundamental opposition to artificial birth control, a source of grievance to many practicing Catholics.
While some Roman Catholic leaders have spoken about the limited use of condoms to stop the spread of AIDS as the lesser of two evils, this is the first time the pope has mentioned such an idea in public.
The new book by Catholic journalist Seewald, set to be translated into 18 languages, arose after a series of interviews with the pontiff conducted in German in July 2010.
The book addresses a number of other sensitive issues, including the scandals over abusive priests in the Catholic Church, the debate about celibacy in the church and female ordination.
Author: Joanna Impey (AFP, AP, Reuters)
Editor: Martin Kuebler