Pope Francis appointed 20 Roman Catholic bishops and archbishops to the rank of cardinal at a ceremony in the Vatican on Saturday.
Cardinals serve as the pope's closest advisors in Rome and around the world. Fifteen of the new cardinals are under the age of 80 and known as "cardinal electors." That designation allows them to participate in a secret conclave held to elect a successor to the current pope after his death or resignation.
The 15 new cardinal electors come from 14 countries. The group includes Nguyen Van Nhon, the archbishop of Hanoi, Yangon archbishop Charles Maung Bo, Soane Patita Paini Mafi of Tonga and two Italians.
The five other cardinals are above the age of 80 and therefore already ineligible to take part in the conclave that will elect the next pope.
Francis: 'not an honorary title'
Pope Francis stressed that the job of cardinal was "not an honorary title" and that it involved working at the center of the church in a manner that "must be exercised in charity, and is ordered towards charity."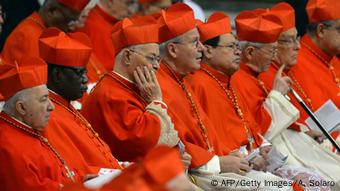 Once again Francis gave greater geographic representation to the College of Cardinals
Addressing the new cardinals, he said: "Those called to the service of governance in the Church need to have a strong sense of justice, so that any form of injustice becomes unacceptable, even those which might bring gain to himself or to the Church."
German participation
Among those taking part in the ceremony at the Vatican's St Peter's Basilica was retired German Pope Benedict XVI.
The ceremony took place after a consistory, which is a formal meeting of the College of Cardinals, in the Vatican on Thursday and Friday. This is Francis' second consistory creating new cardinals. His choices again drew on individuals in parts of the world previously having little representation in the church body.
Additionally, Pope Francis announced on Saturday that he will elevate four women to sainthood in May. They are all nuns who lived in the 19th century and founded Catholic orders - one French, one Italian and two Palestinians.
ra/gsw (dpa, Reuters)