The seeds of Stuttgart's drop into division two were sown early. Specifically with the appointment of Alexander Zorniger to lead the team into the 2015-16 campaign.
The native Swabian was brought in from RB Leipzig to lift Stuttgart, which had battled relegation in each of the previous three seasons, out of the doldrums. And Zorniger had a plan, instructing his charges to press aggressively all over the pitch for the entire 90 minutes. The idea was to force opponents into turnovers that would yield easy goals.
In a very limited sense it worked. Stuttgart scored five times in their first four matches. Unfortunately for them, they conceded 12 goals during that stretch and wouldn't earn a point until round 6. In shifting the focus so decisively to attack, Stuttgart left a relegation-quality defense dangerously exposed.
Despite its obvious flaws, Zorniger was convinced by his approach and stuck to it with a stubbornness that would have made even the orneriest of mules look like a jellyfish. Later in the season, his players would all but admit that they were so tired from chasing their opponents around the pitch that they had nothing left in the tank in the closing minutes of matches.
Zorniger was finally fired after matchday 15. He had only been in post for 146 days, earning an average of 1.07 points per game.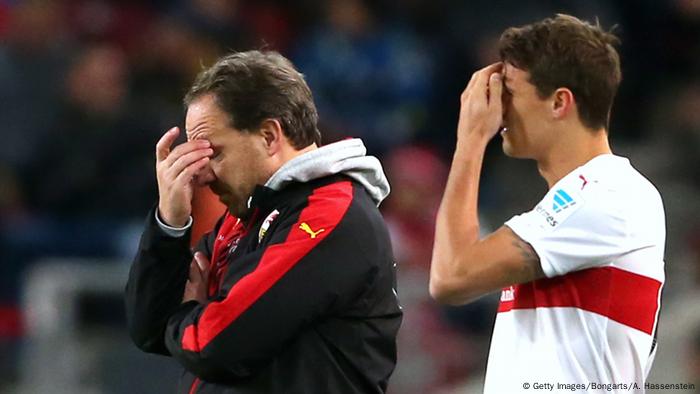 Zorniger's Stuttgart headaches were partly of his own making
Comeback under Kramny
Sporting affairs chairman Robin Dutt handed over the reins to the club, which was second-bottom in the table, to Jürgen Kramny. Promoted from Stuttgart's own youth divisions, Kramny was a congenial, low-key change from the domineering Zorniger, and the players responded.
Stuttgart went undefeated in 2015 and reeled off a five straight wins into 2016. After an away draw with Schalke on matchday 22, Stuttgart were up to eleventh in the table. Three rounds later, the Swabians were still in that position, having just hammered Hoffenheim 5-1.
Stuttgart have had a history of weak starts followed by strong finishes. Some supporters even began speculating that the Swabians might possibly sneak back into the Europa League. No one thought that Stuttgart - on 31 points at that juncture - would get sucked back into the fight for survival.
Perhaps that was a problem. Maybe Stuttgart relaxed too much. In any case, they wouldn't win another game for the rest of the season.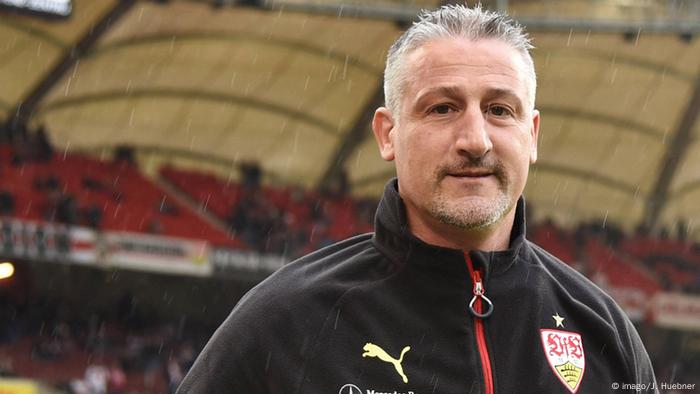 Kramny oversaw a brief recovery but couldn't make a bad team good
The bottom drops out
In the winter break, Stuttgart made two signings aimed at shoring up their porous defense, bringing in Federico Barba from Italian side Empoli and former Dortmund star Kevin Grosskreutz from Galatasaray. But both were quickly hit by long-term injuries.
That meant that Stuttgart had to play the second season half with the same weakness at the back that had afflicted them in 2015. After their run of form, Stuttgart ran into stiffer competition in the likes of Bayern, Dortmund and Leverkusen. Stuttgart lost all three of those matches and could only manage draws against minnows Ingolstadt and Darmstadt.
By matchday 32 and crucial showdown with fellow strugglers Bremen, Stutggart were again shipping goals in industrial numbers and faced the challenge of raising their intensity for a relegation battle that they had thought was over. The result was a 6-2 drubbing.
That flushed whatever scraps of confidence left in Stuttgart down the drain. Stuttgart conceded eleven goals in their final three matches and threw away their last slim chance of survival by letting in two early ones in their concluding game in Wolfsburg.
Stuttgart finished the season with a jaw-droppingly poor 75 goals conceded and a goal difference of -25. Kramny wasn't able to solve the problems he inherited. His average points per game was barely better than Zorninger's. It's debatable whether any coach could have made the difference.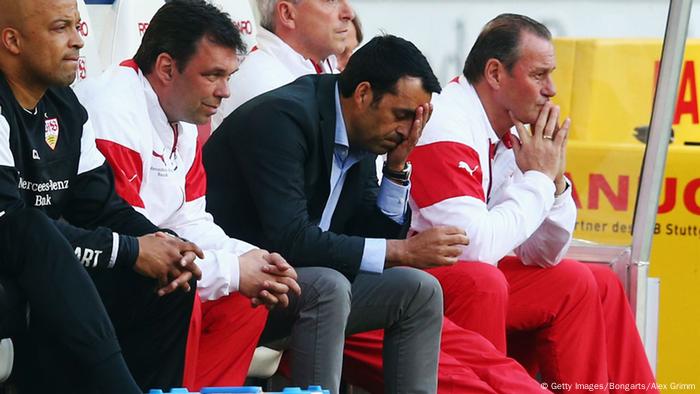 Dutt has put together a series of disappointing squads
Long time coming
Stuttgart's run-in was a pathetic finish for the five-time German champions, who hoisted the trophy as recently as 2007, and casts a very poor light on club management, in particular Dutt and his predecessor Fredi Bobic. Stuttgart were forced to save money and sell off stars like Mario Gomez in the wake of that title. But there is no excuse for a club that runs one of the most successful youth development programs in Germany to be playing in division two.
Like many relegated teams, Stuttgart have become a revolving door for coaches. The last one to survive more than a year was Bruno Labbadia, who was fired in 2013. Twice Huub Stevens was brought in to save the Swabians from the drop, but the club never found the right person to lead the club permanently.
Stevens wasn't available for this campaign. And one of the Bundesliga's most venerable clubs will be out of the top flight for the first time in 41 years. A lot will have to change for the club to return to it.