Federal prosecutors said police squads had searched locations in Berlin and the western state of North Rhine-Westphalia (NRW), looking for Amri, a 24-year-old Tunisian wanted for Monday's truck rampage that killed 12 people at a Christmas market in the German capital.
Chancellor Angela Merkel said she hoped for a "prompt arrest," adding that she was proud of the way a great many people in Germany had reacted to the attack.
The tabloid newspaper "Bild" reported Friday that three of the 12 people killed by the errant truck on Monday had not yet been identified.
The known dead were six German nationals, an Israeli, an Italian and the Polish driver, who on Monday had arrived in Berlin to deliver metal components.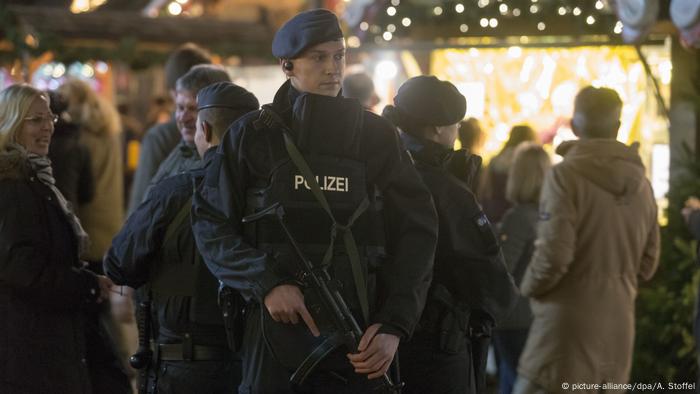 Police in Oberhausen
Searching for the suspect
A tourist bus had also been searched at Heilbronn in the southern regional state of Baden-Württemberg, without arrests being made, prosecutors said.
Video footage from Monday published by various media outlets suggested that Amri disappeared after ramming the truck into the Berlin's Breitscheidplatz market.
Berlin's public broadcaster RBB said images showed him a few hours later at a mosque in Berlin's district of Moabit, where the truck was hijacked and its Polish driver killed inside the cab.
The Breitscheidplatz market was re-opened Thursday, with concrete blocks placed to ward off traffic and protect pedestrians.
Two arrests in Duisburg
Simultaneously Thursday night, police made two arrests near Duisburg in NRW after uniformed and plain-clothed officers scoured the giant Centro mall (pictured above) in Oberhausen.
The Kosovo-born brothers, aged 28 and 31, were suspected of planning an attack at Centro, including its Christmas stalls, according to a police statement.
NRW was the region where Amri arrived as an asylum seeker in Germany in mid-2015, but authorities said they did not believe the attack on the Christmas market in Berlin and the planned Centro mall attack were directly related.
"We're urgently investigating how far the preparations had got and whether more people were involved," police said in the early hours of Friday.
Stun grenades
In Berlin, police special forces on Thursday stormed a venue used by Salafist radicals, which Amri had allegedly visited. Stun grenades were used and a door blown open, the "Berliner Zeitung" newspaper reported.
Interior Minister Thomas de Maiziére, speaking after his visit to the BKA federal police's Berlin office, said fingerprints in the truck's cab and further evidence indicated "that this suspect is with high probability really the perpetrator."
Documents pointing to Amri were found Tuesday inside the cab which had first been sealed by investigators after Monday's attack.
Criticism of policing
Revelations since Monday that Amri had been on a federal list of persons regarded as potential threats and had been monitored in Berlin until September, has prompted further criticism of the efficacy of policing measures.
Christian Lindner, who leads the opposition pro-business liberal Free Democrats, said such people must be observed without pause, if necessary with electronic foot shackles.
Opposition Greens co-leader Cem Özdemir questioned Tunisia's delay in providing Amri with travel documents after his German asylum bid was rejected in July.
"It cannot be true, that some countries are thankful for [European monetary] support but refuse to accept back criminals originating from their regions," Özdemir said.
ipj/jm (dpa, Reuters, rbb)