Germany's Federal Prosecutor's Office gave a statement on Thursday after the first official forensics report on the Berlin Christmas market attack was released.
Spokeswoman Frauke Köhler confirmed that fingerprints belonging to Tunisian national Anis Amri had been found in the truck used to kill 12 people and wound 49 at Berlin's Breitenscheidplatz on Monday evening.
"We are relatively certain Anis Amri drove the car, and we have issued a warrant for his arrest," Köhler said, adding that more details could not be divulged as they might hinder the ongoing investigation.
She also verified that raids had been carried out in Berlin and the western state of North Rhine-Westphalia, where Amri was known to have lived. Köhler stated that no arrests had been made, despite media reports to the contrary. The search of a coach bus in the southern city of Heilbronn had similarly left the authorities empty-handed, she added.
"There is a high probability that he is really the perpetrator," said Interior Minister Thomas de Maiziere earlier on Thursday after he and Chancellor Angela Merkel met with investigators at the Federal Criminal Police Office (BKA). De Maiziere said there were several other indicators pointing to Amri, but declined to give specifics.
Chancellor Merkel took the opportunity to praise the work of Germany's security and intelligence services, adding that "I have been very proud in past few days with how level-headed everyone has reacted to this situation."
Amri's family advise him to surrender
The family of the suspect, who reportedly already served jail time in Italy for arson, have urged the 24-year-old to turn himself in.
"If my brother is listening to me, I want to tell him to surrender, even for our family, we will be relieved," Abdelkader Amri told reporters from the family home in Tunisia. Amri said he believed his brother to be innocent, but that if he was indeed guilty "it would be a dishonor" for them, and that he should be punished.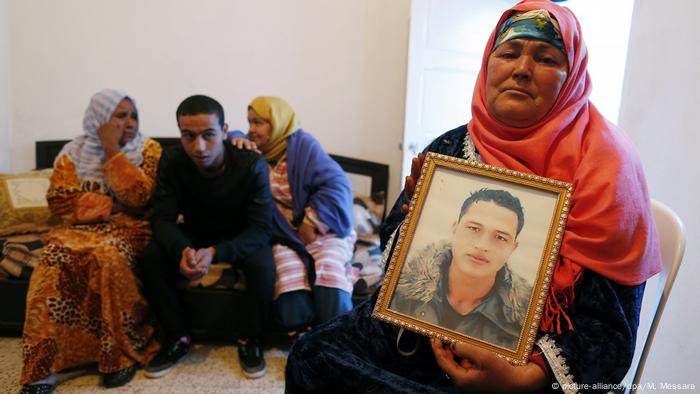 Amri's mother sits with a portrait of her son. His family has admitted he ran into trouble when he left Tunisia for Europe
Merkel, police under fire
Both the Berlin police and Chancellor Merkel's government faced heavy criticism on Thursday. The former for spending the first crucial hours after the attack focusing on a Pakistani suspect who turned out not to be involved in the attack, and the latter for its open-door refugee policy. The ire on behalf of the press and the public intensified as it became clear how much the intelligence services knew about Amri prior to the incident.
According to Der Spiegel magazine, Amri had been under surveillance for associating with hate preachers online. He had offered to act as a suicide bomber on an Islamist website, and asked where he could obtain weapons.
"He was even in deportation detention, but had to be released after a day," Stephan Mayer, the interior affairs spokesman for Germany's conservative union in parliament, told RBB-Inforadio.
Amri's asylum application had been rejected in the summer and he was scheduled for deportation, but the procedure was postponed due to problems proving his Tunisian citizenship. Incidentally, his new Tunisian passport arrived in Germany on Wednesday. It was some of these asylum documents left behind in the truck used in the attack that turned the police onto Amri in the first place.
German police have warned that Amri could be armed and dangerous. They have offered a 100,000 euro ($104,000) for information leading to his capture. The Christmas market at Breitenscheidplatz has already reopened.
es/kms (AP, AFP, dpa, Reuters)