Thousands of far-left demonstrators in Berlin and Hamburg threw fireworks, bottles and stones at police, who used water cannons to disperse the crowds.
In Berlin the violence began when 10,000 leftists and anarchists held a parade in the afternoon on May Day. During the fighting, one officer was hit in the back with a blunt instrument and had to be rushed to hospital.
In Hamburg, the other German stronghold for May Day clashes, rioting followed a parade by 1,500 left-wing radicals. The rioters vandalized banks, overturned cars, built barricades and set them on fire.
Neo-Nazi parade thwarted
Far-left demonstrators had earlier succeeded in blocking a march by far-right extremists in Berlin, which had been approved by the authorities. Some 10,000 demonstrators blocked the roads with sit-ins and police eventually gave up trying to remove protesters.
Around 600 far-right activists has been given permission to march along a six kilometer route, but were turned back by police after marching less than a thousand meters.
Violence between left- and right-wing extremists have been an annual May Day ritual for over two decades now in Hamburg and Berlin.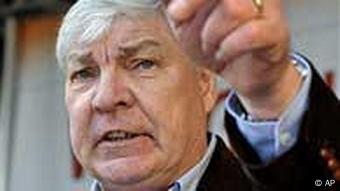 Sommer called for stricter regulation of the financial markets
Union message
More than 480,000 people participated in 440 Labor Day union rallies that took place across Germany.
The head of Germany's general trade union association (DGB), Michael Sommer, said at a rally in the Western town of Essen that politicians need to do more to regulate the financial markets and protect workers' rights.
"Despite all the promises and speeches, the financial markets still haven't been regulated," Sommer said.
"The protagonists of greed and meanness have learned absolutely nothing and carry on regardless," he added.
Europe-wide protests
In France, an estimated 300,000 people had taken to the streets in various cities, many protesting the government's economic and pension reforms.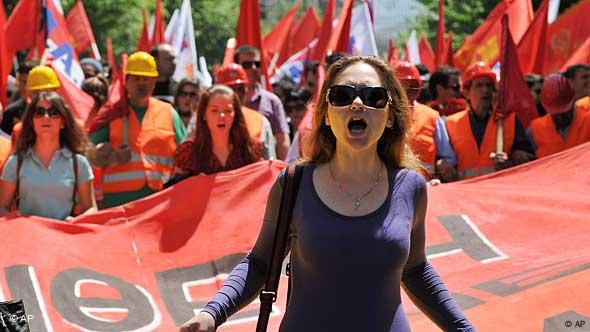 Tough austerity measures have led to a wave of protests in Greece
In Italy, unions rallied in the southern town of Rosarno, where clashes between African immigrants and locals this year marked the worst racial violence in Italy since World War Two.
Thousands of protesters took to the streets in Athens and Thessaloniki, voicing their anger over the proposed austerity measures that aim to reduce the country's massive debt pile.
In Russia, a May Day rally gathered thousands of Communist supporters who marched through the streets of Moscow holding red banners and portraits of Soviet dictator Josef Stalin. But there were also protests against Prime Minister Vladimir Putin and his rule, which protesters compared to that of Stalin's.
ng/dpa/AFP
Editor: Nigel Tandy