Pirate attacks around the world have more than tripled in 2009 according to the International Maritime Bureau (IMB). In its annual report which was published on Thursday, it said that suspected Somali pirates account for more than half of the 406 reported incidents.
The news comes after Germany announced it was sending a new ship, the Emden, to the Gulf of Aden, the narrow channel between Somalia and Yemen, where piracy has been concentrated in recent years.
According to the IMB, Somali pirates ventured further out to sea last year to capture dozens of ships and collect millions of dollars in ransom. A total of 1,052 crew members were taken hostage, 68 injured and eight killed in 2009, it said.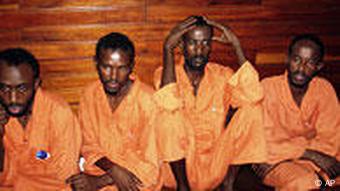 Despite some successes, piracy has continued to increase
"Pirates are now more desperate to hijack ships. Recent attacks, at distances of over 1,000 nautical miles from Mogadishu, indicate the capability of the Somali pirates," the report added.
Additional resources needed
The report claimed that the European Union's anti-piracy operation Atalanta, as well as the presence of US warships in the Gulf of Aden, prevented many more Somali hijackings. Western patrols had forced pirates further south to Somalia's less-policed east coast.
But IMB director, Pottengal Mukundan, made clear that this is no reason for complacency. "Our hope is that this escalating volume of piracy is met with a heightened response from the governments and their agencies best able to reduce and contain these risks to human life and property," he said.
Speaking to Deutsche Welle, Mukundan said that Atalanta had been extremely successful so far, but that more naval resources were needed in new areas. "The Gulf of Aden is pretty well policed at the moment. There was an extended period of several months when there were no hijackings there at all," he said. "But there are a lot of hijackings on the Indian Ocean side, and there is very little naval cover. If countries can afford to send more ships, they are vitally needed."
But Mukundan stressed that resources should not be diverted from the Gulf of Aden to do this: "We need ships there to hold on to the progress we have made. The situation in the Indian Ocean is new and very serious, and it needs to be managed with additional resources."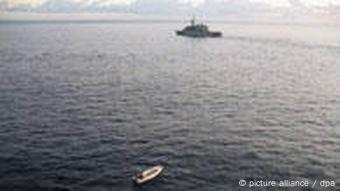 Activities have moved to the Indian Ocean
The EU's Atalanta operation is one of three big naval forces that currently patrol the area, the others being NATO and the Combined Maritime Forces, which include the UK and the US navies. "All three work in coordination with each other, sharing information and resources, and I think all three work together equally," Mukundan said.
In the Gulf of Aden, 116 successful or attempted attacks took place, compared with 92 in 2008. Large carriers were targeted most often.
"As of December 31, suspected Somali pirates were holding 12 vessels for ransom with 263 crew-members of various nationalities as hostages," the IMB report said.
Not just Somalis
The report also pointed to a rise in the number of attacks in other areas, especially the South China Seas, where there was the largest number of hijackings for five years. On top of this, piracy around South America more than doubled in 2009.
But attacks in the Malacca Strait, which was a world piracy hotspot just a few years ago, remained at just two in 2009, the same as the previous year, the IMB said.
bk/AFP/Reuters/AP/dpa
Editor: Michael Lawton