Perhaps best known as the founder of the doctrine of utilitarianism, the British philosopher and reformer Jeremy Bentham (1748-1832) believed that society should aim to promote the greatest happiness for the greatest number. He was highly respected in his time, and major figure in the history of legal and political thought in Britain.
But despite being such an influential thinker, most of Bentham's work is yet to be discovered - much of it has yet to be transcribed and catalogued.
So, to achieve that goal of publishing Bentham's entire oeuvre, Bentham scholars have turned to the Internet for help.
In September last year, Philip Schofield, a history professor at University College London, and his team set up a project called Transcribe Bentham, a crowdsourcing initiative to allow anyone with an interest and an Internet connection the chance to read Bentham's undiscovered manuscripts.
Valerie Wallace, who coordinates the online effort said the idea is "to put up material that has never really been studied properly by anyone, certainly never been transcribed."
It seems that the public have responded to their call: as of January 2011, some 773 manuscripts had been transcribed since the project began in the fall.
Only one-third of Bentham's work has been studied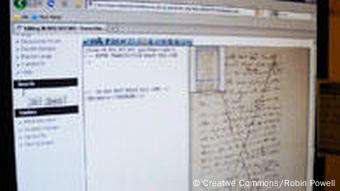 So far, Transcribe Bentham has drawn over 1,100 online scholars
Schofield said that about 20,000 of the 60,000 folios written by Bentham have been studied and transcribed so far, leaving some two-thirds left in archives.
Many of these have not been read since they were written some two centuries ago and neither do scholars know what subjects they cover.
Schofield is also the current director of the Bentham Project, a scheme set up over fifty years ago with the aim of publishing Bentham's complete works in a new authoritative edition, which he is editing.
"Funding is one of the main challenges," Schofield said in an interview with Deutsche Welle, pointing to the sheer volume of Bentham's manuscripts, and the decades the project has lasted before the Internet project.
To make the job more difficult, Bentham's writings are full of redrafts, partial redrafts, references not familiar to the modern reader, odd spellings, and even different languages such as Latin or Greek.
Furthermore, Schofield said, his handwriting deteriorated as he got older, and gets "really bad" from 1820 onwards.
Amateur Bentham online scholars pass 1,000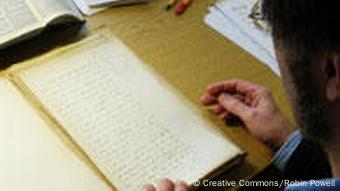 Some of the manuscripts have text in Greek, Latin and other languages
New users can choose which manuscript they would like to work on, selecting either by subject, for instance "Crime and Punishment" or "Religion," by date, or even by the difficulty of the handwriting – easy, moderate or difficult.
Valerie and her colleague on the project, Tim Causer, confided that they haven't uploaded any "difficult" manuscripts yet - typically from later on in Bentham's life - for fear of deterring potential transcribers.
The project has been a runaway success, particularly since a write-up in the New York Times in December. The number of volunteers contributing transcriptions has recently passed the 1,100 mark, from nearly 90 countries, and more manuscripts are being uploaded to cope with demand.
All of which raises the question: who would want to spend their free time poring over the illegible handwriting of a long-dead philosopher?
The current top transcriber by some distance is Diane Folan, an economics postgraduate in Bristol.
"It would be such a huge thing to have a hand in helping to transcribe folios that were then going to be used in a future publication," she said. "I've worked on 194 now – it's just lovely to be able to view manuscripts that only a couple of people have seen."
For Nicolas Limerick in Boston, in the US – a new transcriber - it's more about the puzzle of Bentham's work and getting an insight into the man himself.
"You really go step by step through a journey with the philosopher Bentham, sort of hashing his ideas out on paper," he noted.
It seems curiously appropriate that someone who believed in the greatest happiness for the greatest number is now having his name and reputation spread over a medium that connects the greatest number of people – the Internet.
Philosopher 'would have been delighted' by Internet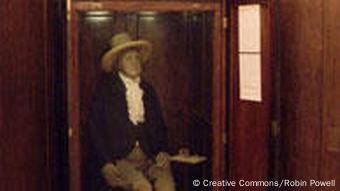 Bentham wanted future generations to know his work, and his appearance
Schofield said moreover that Bentham was a big fan of technology, and speculated that "he would have been much more at home in world of mobile phones, Kindles and computers than in his own time."
Bentham would have been delighted with the Transcribe Bentham project, he added.
Transcribe Bentham is also appropriate in another, rather morbid, way. In his will, Bentham donated his body to medical research, but also asked for his body to be preserved and displayed.
Accordingly, his corpse – or rather his skeleton, dressed in his clothes and with a wax head on top – sits calmly in a glass case in a corridor of University College London, gazing at students as they file to and from their lectures. In his own writings, Bentham called it his "auto-icon."
So, just as his body is still on public display to be wondered (or perhaps grimaced) at long after his death, so too his ideas are set to live on.
Author: Robin Powell, London
Editor: Cyrus Farivar