The Philippines government announced Friday it would significantly boost military cooperation with the United States as it seeks to secure claims to parts of the South China Sea.
Foreign Secretary Albert del Rosario said Manila would accept a greater US military presence on its territory and engage in more joint exercises with its former colonial ruler.
"It is to our definite advantage to be exploring how to maximize our treaty alliance with the United States in ways that would be mutually acceptable and beneficial," del Rosario said in a statement.
Whilst not naming China specifically, Del Rosario said the boosted cooperation deal was with "territorial disputes" in mind.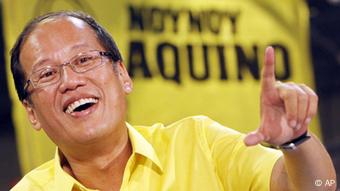 Philippine President Benigno Aquino wants closer ties with the US
"Such cooperative efforts would as well result in achieving a balance of influence to ensure peace, stability, and economic development in the region," Del Rosario said.
Contested waters
The Philippines and China are two of six Asian nations claiming either all or part of the South China Sea. The Sea hosts one of the world's most important trade routes and is said to hold vast mineral resources.
Countries bordering the Sea have watched warily in recent years as Beijing has invested unprecedented sums into upgrading its naval capabilities.
The United States, for its part, has recently indicated a renewed focus on the Asia-Pacific and plans to significantly boost its military presence in the region.
Leslie Hullryde, a Pentagon spokeswoman, said Thursday the talks with the Philippines encompassed "a broad range of issues, including our cooperation on counterterrorism, counter-proliferation, disaster preparedness, border security, and human rights."
"We'll certainly be discussing with the Philippines, a long-time ally in the region, how our enhanced posture in Asia can be useful to them as we expand our cooperation," she said.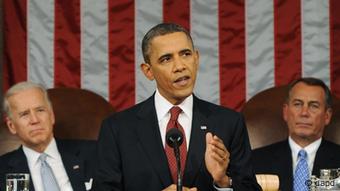 Obama signaled a US realignment towards Asia
Hardware upgrade
Perhaps timed to coincide with Friday's cooperation announcement, the Philippines also launched a defense acquisition system to expedite the procurement of more than 1 billion US dollars (0.76 billion euros) worth of military equipment.
Defense Secretary Voltaire Gazmin said among the hardware to be purchased would be long-range patrol aircraft, F-16 fighter jets and multi-role vessels for the navy.
"This is a timely and welcome development as we are now focusing our efforts in addressing regional security concerns with our neighbors," said military chief, Lieutenant General Jessie Dellosa.
Author: Darren Mara (AFP, Reuters)
Editor: Sarah Berning