With just over two weeks to go until the Euro 2016 football tournament kicks off in France, like hundreds of other brands, Italian confectionary company "Ferrero" has launched a special edition of Germany's beloved "Kinder Schokolade" chocolate bars.
Jumping onto the football-fever bandwagon, "Ferrero" replaced the usual children who appear on the multipacks with childhood photos of the German national football team.
While sweet-toothed football fans headed to grocery stores to scramble for their favorite German football stars - whether it be World-Cup winning-goal scorer Mario Götze or sturdy center-back Mats Hummels - members of the anti-immigrant PEGIDA movement were less than impressed with the marketing campaign.
Calls for a boycott
The outrage began after PEGIDA Bodensee - a Baden-Württemberg offshoot of the movement - posted a photograph of two Kinder chocolate multipacks on Facebook - one of which featured a black child and the second, a boy of Middle Eastern appearance.
"They'll stop at nothing. Is it really possible to buy these? Or is this a joke?" the group wrote alongside the photo.
What ensued was a wave of support from fellow PEGIDA supporters, expressing their horror that so-called "non-Germans" could appear on Germany's beloved "Kinderschokoldade." Some of the right-wing commenters were so appalled that they vowed to never buy the chocolate bar again.
"This must be fake, no?!?!?" demanded one user.
"Is this a warning for future terrorists?" asked another.
The owner of a restaurant which caters for the far-right, Tommy Frenck, commented that the pictures made it "very easy to give up chocolate" and urged a boycott on the brand "until marketing bosses have come to their senses."
What the PEGIDA supporters failed to realize, however, was that the two "boys" at the center of their discontent were Ilkay Gündogan and Jerome Boateng - two of Germany's biggest football stars who look set to play in the Euro 2016 tournament next month.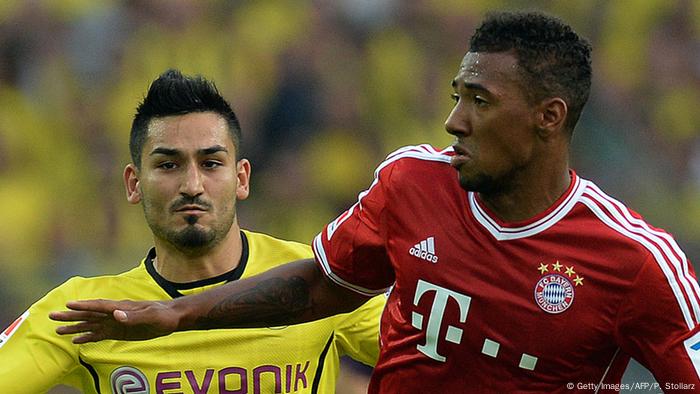 Ilkay Gündogan and Jerome Boateng are currently in Switzerland, training for the Euro 2016
Boateng, whose father is from Ghana, was born in Berlin and currently plays as a defender for Bundesliga champions Bayern Munich, while Gündogan, whose parents are Turkish, plays midfield for Bayern rivals Borussia Dortmund.
It wasn't long until other social media users spotted the anti-immigrant group's faux pas. As the online mockery spread from Facebook to Twitter, red-faced PEGIDA supporters were left to mull over the irony of their racist comments against their own national football team.
"Germany wins, and PEGIDA supporters celebrate, but pictures of the footballers on #Kinderschokolade is sh*t?" tweeted one user.
"As long as they play football, it's okay; if not, then all the migrants can happily stay away #everybodywelcome" quipped another.
Others responded with parodies of the Kinder chocolate packaging, with Twitter user Sahrer posting a "PEGIDA edition" of the sweet treat.
All in good humor, one user tweeted: "I want to see the faces of PEGIDA on toilet paper packaging!"
As the German national team began training for the Euros in the Swiss resort of Ascona on Wednesday, German Football Association (DFB) Reinhard Grindel slammed PEGIDA's comments.
"The German national football team is one of the best examples of successful Integration. Millions of people in Germany are proud of this team, because it is how is is," the DFB president said.
"What matters to us is the performance of a player and not his origin or religion," Grindel added.
Such was the furor over PEGIDA's blunder that Ferrero later issued their own statement on Facebook.
"We at Ferrero would like to distance ourselves from any form of xenophobia or discrimination," the company wrote.
"We don't accept or tolerate this in our Facebook communities either."
Following the backlash, the Bodensee PEGIDA told their supporters on Facebook that it was "best just not to answer."
"We've really dived into a wasps' nest here," the group said in a post. By Wednesday afternoon, however, the Bodensee PEGIDA Facebook page had been deactivated.
PEGIDA found its roots in the eastern German city of Dresden in October 2014. For the last 19 months, the movment has held almost weekly demonstrations against Islam, refugees, politicians and the media.
At the height of their popularity in January 2015, the group saw a turnout of some 25,000 protesters. Numbers have declined in recent months, however, with around 2,000 people attending the most recent demonstration.