Pedro Passos Coelho, the leader of Portugal's center-right Social Democratic Party (PSD) is set to open coalition talks with the small conservative CDS-PP party.
"As the Social Democrats won yesterday's elections, electing the most lawmakers, the president instructed Pedro Passos Coelho to immediately begin work to propose a government solution that has consistent majority support in parliament," President Anibal Cavaco's office said in a statement following a meeting between the president and Passos Coelho on Monday.
Passos Coelho, whose PSD won 38.6 percent of the vote, said he planned to form a government by the end of the month. A coalition with the CDS-PP, which finished third, would have an absolute majority of 129 seats in the 230-parliament.
The CDS-PP leader, Paulo Portas, has already expressed his willingness to join a coalition with his party's traditional allies.
Voters give Socialists a black eye
The election saw the incumbent Socialists, led by Prime Minister Jose Socrates, swept out of power with just 28 percent of the vote - their worst result in two decades. Following the result, Socrates announced that he was stepping down as leader of the party.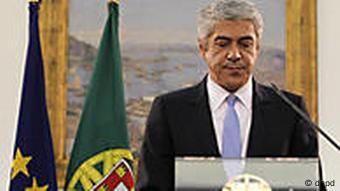 Socrates had led a caretaker government since stepping down in March
Passos Coelho, 46, has pledged to use the parliamentary majority to implement tough austerity measures demanded by the European Union and the International Monetary Fund as part of a 78-billion euro ($114 billion) bailout.
"There are many difficult measures planned that will be taken. All the Portuguese will need a lot of courage and I'm sure they will have enough," Passos Coelho told reporters in Lisbon.
Economic woes
Passos Coelho's government will inherit a host of economic problems, beginning with a public deficit of 9.1 percent. Portugal's economy is predicted to contract by two percent in 2011, following 1.4 percent growth in 2010. The country's unemployment rate stands at a record-high 12.5 percent.
However Passos Coelho expressed confidence that his government could get Portugal's economy back on track.
"Portugal needs to return to creating a wave of confidence in the markets," Passos Coelho told the Reuters news agency. "I think we can surprise and go beyond the [bailout] agreement."
Author: Chuck Penfold (dpa, AFP, Reuters)
Editor: Michael Lawton