A 29-year-old man was killed and four other people were injured after an attacker began stabbing bystanders in the Opera district of central Paris on Saturday evening at about 9.30 p.m (19.30 UTC), police confirmed. The attacker was shot dead by police.
French prosecutors said they were treating the attack as a terrorist incident. The militant "Islamic State" (IS) group claimed responsibility online for the attack.
On Sunday, judicial sources identified the attacker as a 21-year-old French citizen born in the Chechnya region of Russia who had been on the "fiche S" list used by security forces to identify people who could pose a risk to national security. His father and mother were held for questioning.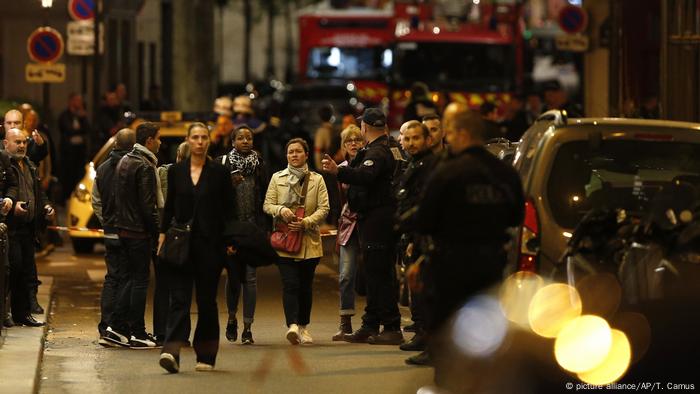 Police guarding the scene of the attack
What we know so far
The attack took place on the Rue Monsigny, a side street in Paris' second arrondissement, located near the city's Opera Garnier.
Paris prosecutor Francois Molins opened a terror probe into the attack. He cited witnesses as saying the alleged attacker shouted "Allahu Akbar" or "God is greatest" during the attack.
IS claimed that one of its "soldiers" carried out the attack, according to the SITE monitoring group. The statement on the group's Aamaq news agency did not provide evidence for its claim.
The attacker was a French citizen born in Chechnya in 1997, according to a judicial source.
French government condemns attack
Following the knife attack, French President Emmanuel Macron said that his thoughts were with the victims. "France once again pays the price of blood," but the country will not cede to "enemies of freedom," he wrote on Twitter.
French Interior Minister Gerard Collomb denounced the "odious attack" in Paris on Twitter. He also praised the "cool and quick reaction of the police forces who neutralized the attacker."
Collomb later told reporters that he met with some of the victims in hospital and that all would survive their injuries.
Read more: Two years after Bataclan terrorist attacks France 'must forget'
Scenes of panic
The attack took place in an area containing several restaurants, bars and shops, located between Paris' main opera house and the Louvre museum. Witnesses described scenes of panic as people out for a weekend night realized that a potential terror attack was occuring.
"The attacker entered a shopping street, I saw him with a knife in his hand," Jonathan, a waiter at a Korean restaurant near where the attack took place told news agency AFP. "He looked crazy."
Milan, another witness, told AFP he saw a woman who sustained wounds to her neck and leg as well as "several people in distress."
Another eyewitness told broadcaster BFMTV that she saw a young man running towards three policeman who eventually shot him down.
Read more: Macron anti-terror law replaces French state of emergency
France on high alert: Security has been heightened in France following a series of attacks in recent years that have been inspired by or carried out by IS. More than 230 people died in attacks in France in 2015 and 2016. A state of emergency that was put in place following the 2015 Paris attacks that killed 130 people was lifted last October. Macron's centrist government replaced it by passing a law that boosts the powers of security forces.
rs/jm (AP, AFP, dpa, Reuters)
Each evening at 1830 UTC, DW's editors send out a selection of the day's hard news and quality feature journalism. You can sign up to receive it directly here.