The Panamanian law firm Mossack Fonseca said in a statement on Wednesday that "reputational deterioration" and "the financial consequences and irregular actions by some Panamanian authorities" had caused irreparable damage to its business, "resulting in the total ceasing of public operations at the end of this month."
The firm said it would continue to cooperate with authorities looking into the "Panama Papers" leaks, which were published in 2016.
Read more: Panama Papers report calls out complicit EU countries
Co-founder Jürgen Mossack said last August that the firm had closed most of its offices outside Panama after its damaged credibility had hit business.
Mossack Fonseca was founded in 1977 by German lawyer Mossack and Panamanian lawyer Ramon Fonseca. Swiss lawyer Christoph Zollinger later joined the firm, which was the world's fourth-largest provider of offshore services when the scandal broke.
It acted for about 300,000 companies, over half of which were registered in British tax havens and in the UK.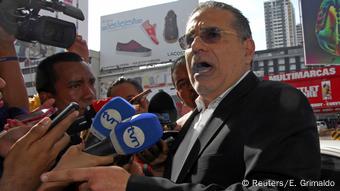 Ramon Fonseca, a founding partner of law firm Mossack Fonseca
The revelations
The "Panama Papers" scandal, a leak of 11.5 million files from Mossack Fonseca's digital archive showing how many wealthy and influential people had created offshore businesses to protect their assets from national tax regimes, broke in April 2016, when German newspaper Süddeutsche Zeitung published the findings of the International Consortium of Investigative Journalists.
At least 150 investigations were opened in 79 countries to examine possible tax evasion and money laundering, according to the US-based Center for Public Integrity.
Icelandic ex-Prime Minister Sigmundur David Gunnlaugsson resigned after the papers showed members of his family had offshore accounts, while former Pakistani Prime Minister Nawaz Sharif was disqualified from office for life after being implicated in the documents.
Other figures implicated included former British Prime Minister David Cameron, Barcelona soccer star Lionel Messiand Spanish filmmaker Pedro Almodovar.
Panamanian prosecutors raided the offices of Mossack Fonseca in February, seeking possible links to Brazilian engineering company Odebrecht, which has admitted to bribing officials in Panama and other countries to obtain contracts in the region between 2010 and 2014.
Ramon Fonseca has denied the firm had a connection to Odebrecht.
The International Consortium of Investigative Journalists shared the 2017 Pulitzer Prize for explanatory reporting with McClatchy and the Miami Herald for their reporting on the Panama Papers.
jbh/sms (AFP, Reuters)
DW editors send out a selection of the day's hard news and quality feature journalism. You can sign up to receive it directly here.