A small group of masked Palestinians threw stones and firecrackers at Israeli police in front of the main entrance to the Al-Aqsa Mosque, also home to the Jewish Temple Mount, in Jerusalem on Sunday. Police dispersed the demonstrators with "appropriate riot dispersal means," a police spokeswoman told journalists. She said calm had been restored to the site.
The White House reacted to the violence saying it was deeply concerned and called on both sides to "exercise restraint and refrain from provocative actions and rhetoric."
The mosque had been witnessing several days of unrest, where Muslim protesters barricaded themselves inside the compound and hurled stones and fireworks at the police. An Israeli was also killed in an incident after his car was pelted with stones.
Thousands of police officers have been deployed at the site since then. Police have tightened rules against rioters and several Palestinians have been arrested, with Israeli officials accusing Palestine's President Mahmoud Abbas of "incitement."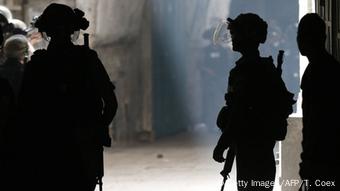 Israeli police have tightened rules against rioters.
Jewish group plans march
Sunday's incident took place on the Muslim festival of Eid al-Adha and the eve of the week-long Jewish harvest festival of Sukkot. Many Jews were expected to visit the Temple Mount, home to biblical temples, in the coming days.
Israel seized the area from Jordan in 1967 during the Six-Day War, but according to a longstanding arrangement, Jordan still retains custodial rights to the area. Jews are allowed to visit the site, but not pray there.
Palestinians fear increasing visits by Jews could cause them to lose control in the area. Israel has pledged to maintain Muslim prayer rights at Al-Aqsa, but has also banned Muslim youths from entering the mosque in the past days.
Meanwhile, the Temple Mount and Land of Israel Faithful Movement have planned a march on Wednesday to the site of the mosque. The group seeks the construction of a new Jewish temple on the Al-Aqsa compound.
mg/sms (Reuters, AP)