With a microphone in his hand, Ahmad Al-Khatib calls out instructions to the ninth-graders assembled for early morning exercises. "Right, left, forward and back!" In the schoolyard in front of him, about 250 boys have lined up in rows. It's a quarter to 8 here in Hizma, a village just 8 kilometers (5 miles) east of Jerusalem. This early workout is part of morning radio - a 10-minute live show held at every Palestinian school just before classes start. After the morning's exercises, Ahmad confidently guides his listeners through the rest of the program - a short Koran sura, followed by the national anthem and then a patriotic piece written by a member of the school's new media group.
There's always been a morning radio, recalls 14 year old Ahmad, but in the past schoolchildren rarely wrote the content themselves. That's changing with a new school media group. "We come up with the topics together and then write them up," Ahmad says.
For Ahmad, the most pressing topic right now is the schoolyard. "We really need to get rid of the asphalt and replace it with grass," he says, explaining that students sometimes trip while playing soccer and hurt themselves on the rough surface. He proudly adds that he and his friends wrote a piece on this for the radio show.
The school media groups and editorial changes to the morning radio program are the initial results of a long-term project called "Speak up! Media Literacy for Palestinian Youth." Together with the Palestinian youth organization Pyalara, DW Akademie is helping students to better understand and classify media, as well as create it themselves.
Teaching media skills
Calling out early morning exercises
"Young people here have few opportunities to speak out in public and represent their views in the social dialogue," says Verena Wendisch, DW Akademie country coordinator for the Palestinian territories. She adds that the party propaganda in the regional media also makes it hard for young people to develop their own critical standpoints. That's where the media skills project comes in, with an aim to strengthen young Palestinians' skills for openly expressing their opinions and taking part in social debates.
Access to the media can change young people's lives, and that's something school student Alaa Ahmad has learned. She's from Qalandia, a village 15 kilometers north of Hizma that has been strongly affected by the region's past and recent history. Qalandia is both the name of an Israeli checkpoint and a refugee camp here. People in the camp are descendants of Palestinians who were forced from their homes when the State of Israel was founded in 1948. Alaa attends a UNRWA girls' school in the camp.
Expressing students' concerns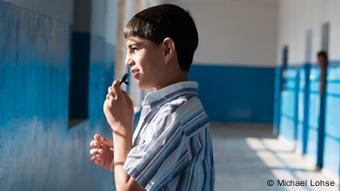 14 year old Ahmad hosts the school's daily morning radio
Fourteen-year-old Alaa proudly shows off the first wall newspaper that she and a group of students produced this school year. Alaa and the others on the new newspaper editorial team - ten girls between the ages of twelve and fourteen - meet in the school library during school breaks and free periods. Today she sets a large piece of orange cardboard down on one of the many tables. Glued onto it are several articles and photos that were produced by the young, budding journalists. The focus here is on bullying at school.
Alaa explains that older students sometimes steal pocket money from the younger ones or make them carry their school bags. "We think it's important to show the older girls how their bullying affects the victims. If they can put themselves in the place of the children they are mistreating, they might realize the harm they're doing." Alaa has lots of ideas for other topics she'd like to report on: "We desperately need green spaces in Qalandia," she explains. "I sometimes sit on the roof of our house and think about changes I'd like to make - where I could plant a garden, for example," she says. Being involved with the wall newspaper has given Alaa and her school friends a way to express their everyday concerns.
A generation that's asking questions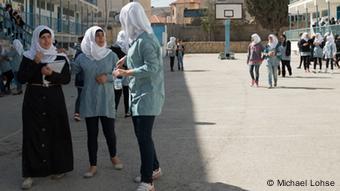 Students at the UNRWA girls' school in Qalandia learn how to openly discuss problems such as mobbing
Alaa's and Ahmad's schools are two of the eight taking part in this media literacy project. The schools are all located in what's called Area C - a socially and economically disadvantaged territory under almost complete Israeli civil administration and security control.
"For far too long our children have been raised to say yes to everything. They haven't been encouraged to ask questions," says Hania Bitar, head of the Pyalara youth organization. Financed by Economic Cooperation and Development Ministry, the project got underway in spring 2014 and is scheduled to end in 2016.
Asking questions is now part of Ahmad's reality. He says the newly founded media group has boosted his confidence. "I'm optimistic they'll fix the surface in the schoolyard by the end of the school year," he says with conviction.
And Alaa says she can no longer imagine her life without the media. "I've become much more confident since I started working on the wall newspaper," she says. "When everyone at school reads and listens to what I write, that really gives me courage."