Sharmeen Obaid-Chinoy became the first Pakistani to ever win an Oscar on Sunday. She and her American co-director Daniel Junge won the coveted prize for Best Documentary (Short Subject) for "Saving Face."
The documentary chronicles the lives of two acid attack survivors, Zakia and Rukhsana, and the arduous task to bring their assailants to justice. It also focuses on the work of British-Pakistani plastic surgeon Mohammad Jawad, who moved to Pakistan to help restore the faces and lives of acid attack survivors.
In her acceptance speech at the 84th Academy Awards ceremony in Hollywood, Chinoy dedicated the award to Pakistan women.
"All the women in Pakistan working for change, don't give up on your dreams, this is for you," she said.
'A message of hope'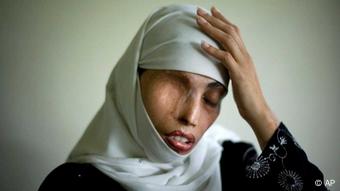 Hundreds of Pakistani women are disfigured in acid attacks every year
Chinoy had said in an interview after being nominated for the Oscars that "the women who decided to be a part of the documentary did so because they wanted to make their voices heard and wanted to bring attention to this form of assault."
The film focuses on 13-year-old Zakia, who explains how she was burned after rejecting the sexual advances of her teacher, while Rukhshana, who is 25 today, talks about how her husband threw acid on her face, before her sister-in-law doused her in gasoline and her mother-in-law set her on fire.
Chinoy, who won an International Emmy Award in 2010 for "Pakistan's Taliban Generation," said her new documentary sent out "hope with a powerful message for the Pakistani audience." She added the film and its publicity would "be a great way to show how Pakistanis can help other Pakistanis overcome their problems."
Violence against women in Pakistan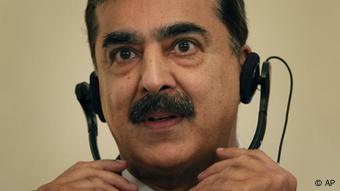 Rights groups have hailed Gilani's government for passing pro-women bills
Rights groups in Pakistan estimate that more than a hundred people, mainly women and girls, are disfigured in acid attacks every year, usually in cases of domestic violence. Most incidents go unreported, with women suffering silently at home rather than seeking help from courts.
Musarrat Misbah, the head of the Smile Again Foundation, which works with acid attack survivors in Pakistan, told Deutsche Welle that Chinoy's victory was a "triumph for all acid attack survivors."
"The issue has now become international and there will be pressure on our government and society to curb this crime. It is a barbaric act to throw acid on girls' faces and disfigure them," she said.
The Pakistani Senate recently unanimously passed two bills imposing strict punishments on those who attack women with acid. The passage of these bills was hailed by the liberal sections of the country as a historical achievement.
Mohsin Sayeed, a Karachi-based journalist, said "the Pakistan People's Party-led ruling coalition is the best possible government we can have in Pakistan." He told Deutsche Welle that the present government and its coalition partners, the Muttahida Qaumi Movement (MQM) and the Awami National Party (ANP), were "secular, progressive, pro-minorities and pro-women. We must strengthen them."
But Musarrat Misbah said women legislators and the activists working on domestic violence issues were "the real heroes."
Chinoy makes Pakistan proud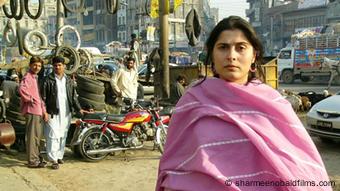 Chinoy's 2010 film 'Pakistan's Taliban Generation' won an Emmy Award
Chinoy's Oscar triumph is also being seen in Pakistan as a positive development for a country marred with religious extremism and terrorist activities.
Moreover, Sayeed said it was "a great achievement for Pakistan" that in "a country where cinema is practically dead," Chinoy had been able to make a film creating awareness about an important issue and go on to win an Oscar.
"She is a very hard-working lady," added Misbah. "She has picked up issues which no man in Pakistan has ever picked up. She has made movies on transvestites, on prostitutes."
Misbah also said that to get international recognition for such a work, which has nothing to do with religion and extremism, was proof that all is not negative about Pakistan and the Pakistanis.
Author: Shamil Shams
Editor: Anne Thomas