It is perplexing that a majority of Thai citizens welcomed last year's military coup. However, there are reasons for their reaction: the large-scale demonstrations prior to the military's interference that disrupted the Southeast Asian country's social and political harmony and unity to a great extent.
The government of former prime minister Yingluck Shinawatra and her opponents were just not able to reach an agreement, and time ran out for a peaceful settlement. The military ultimately stepped in to prevent the country from plunging into anarchy.
But the ultimate price for maintaining peace and security has been the curtailment of civil rights — a price many Thais are probably willing to pay. To date, political rallies have been banned, and freedom of expression is not tolerated by Prime Minister Prayuth Chan-ocha's military-dominated government. Moreover, the absence of an independent judiciary is apparent in the sham trial against Yingluck.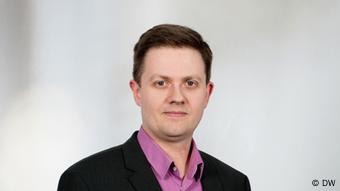 DW's Rodion Ebbighausen
The military-controlled National Council for Peace and Order (NCPO) is set to write a new constitution, but the Council has systematically undermined the democratic gains the country had made over the past years. It is true that Thailand's political system was not perfect, but it allowed the people to participate in the political process. These setbacks are particularly unfortunate when one keeps in mind that Thailand was once known as the pioneer of democracy in Southeast Asia.
The long-term consequences of the political situation in Thailand are being ignored in favor of short-term benefits — mainly the maintenance of security and peace. That makes it more difficult to demand civil rights and an end to dictatorship.
We have experienced similar cases in recent times. The failed Arab Spring is proof of just how enormous and difficult the challenge is to overcome dictatorships. Myanmar, where the conflict between the pro-democracy opposition and the military junta has lasted for nearly 60 years, is a good example from Southeast Asia.
A dictatorship, once established, has only one goal: to maintain and consolidate power for the ruling class. Thailand is no exception. The Thai military keeps saying that it will give back the power to the people, but there are doubts about their claims.
Following the May 22, 2014 coup, the junta said general elections would be held within a year, but on Tuesday, May 19, the government announced that these elections would not take place until August 2016. The regime is expected to hold a referendum on the new constitution first.
So far, the resistance against the military regime has been restrained. Yingluck's supporters have been tamed and are not protesting. A forceful resistance will only materialize if the Thai people realize that the military cannot resolve the conflict.