He can twist the facts any way he wants, and his supporters in the Social Democratic Party (PSD) will certainly help him. But it won't do him or his party much good.
Liviu Dragnea, the powerful puppet master in Romanian politics, is going to prison. The verdict is not yet final and Dragnea plans to appeal. That is his right. But there are some in his PSD who are seething. The number of dutiful party members who are prepared to protect their boss at any cost is shrinking. In the end, it's not just about him; it's about the future of the party. Put simply, should the PSD become the gravedigger of democracy in Romania? Or can it free itself from Dragnea and his inner circle's stranglehold and make a fresh start?
The government's puppet master
Dragnea was previously convicted of vote-rigging. He is not allowed to become the head of government for this reason. As parliamentary president, he is technically the third man in the state leadership apparatus. But as party leader, he pulls the government's strings as he pleases, since they were appointed by him. Those who don't play along, are fired. This has happened to two prime ministers since the government took office in January 2017. Current Prime Minister Viorica Dancila, who is the head of government in name only, is at Dragnea's beck and call. That obedience extends down to other executive bodies in the government, including from the southern Romanian region where Dragnea was head of the district administration.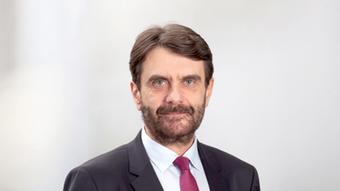 Robert Schwartz heads DW's Romanian service
That southern Romanian district may now prove to be Dragnea's downfall. As a "regional baron," he is said to have been guilty of abuse of office. His first conviction for electoral manipulation had to do with his influence in that region. Time will tell how long the clique around Dragnea can stay at the top of the PSD and the government, and how long the party will agree to be led by this group.
They do still exist, the dutiful party foot soldiers who, since the government took office, have been obsessively pursuing only one goal. They want to dismantle the anti-corruption laws in order to exonerate their boss and fulfill his dream of becoming prime minister. As part of Dragnea's strategy, the internationally esteemed head of the DNA anti-corruption authority, Laura Kovesi, is to be removed. This does not seem to bother the party faithful, and nor have they shied away from the attempt to remove the liberal-conservative President Klaus Iohannis from office.
The big clean-out has begun
Once again, this power-hungry clique has failed to reckon with the consequences. Civil society is no longer letting itself be intimidated and has taken to the streets. This has been happening every day since early 2017. Sometimes there are more people, sometimes less, but they are unflinching. Society's democratic uprising can no longer be ignored by normal thinking PSD politicians. Almost 30 years after the fall of communism, a change of course in the Communist Party's successor organization is more than overdue. Meanwhile, from several of the party's wings it is being increasingly said that Dragnea and his allies must be stopped.
Read more: Romania police arrest German journalist covering protest in Bucharest
In other words, a big clean-out has begun, and the Dragnea era is drawing to a close. After all, it is not just about the PSD's survival as a political force. Romania's credibility as a member of the European Union and NATO has long been at stake.