The headline of the first report from Germany's dpa news agency was rather typical: "First Muslim voted in as house speaker in Baden Württemberg." The fact that a politician of the Muslim faith was chosen for a top political position was the story's primary message in the eyes of news agency pros.
But you could have seen matters differently. Above all, Muhterem Aras, who's evidently no stranger to historic significance herself, sees things differently: "This week, we in Baden-Württemberg are again writing history," she posted on her Facebook page on Tuesday. But what the Stuttgart lawmaker meant by this was that she had become the first woman to take up "the important post of house speaker" in the southwestern state's legislature.
A successful immigrant? Any takers?
And there could have been yet another variation of the headline: for the first time, an immigrant has taken up the second-most powerful position in the region, behind only the state premier. Aras was born in an Anatolian village 50 years ago and moved to Germany at the age of 12. Back then, she didn't speak a word of German. But she's worked her way up with the help of her family, a committed young teacher and a lot of hard graft: from a middle-tier secondary school [Germany uses a streaming system - the ed.] to a business college and on to the University of Hohenheim. Her Stuttgart business as a tax advisor is nearing its 20th anniversary, she now employs 12 people - it's the kind of self-made success story the Swabians in southwestern Germany so love.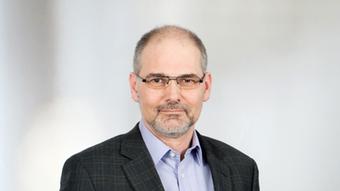 DW's Felix Steiner
If you were to hear her speak, without seeing her face or knowing her name, her voice and accent would immediately evoke images of the classic Swabian housewife, who has become an icon of austerity thanks to Angela Merkel's handling of Greece's debt problems. This is precisely why Aras is so well received in Stuttgart. First she was a city councilwoman, then becoming party chair for the Greens at the council level. She first stood for regional parliamentary office in 2011 and her tally of 42.5 percent of the vote bested any other Green candidate. She repeated the feat on March 13 this year.
Muhterem Aras is therefore a prime example of successful integration in Germany. She's evidence that you can also be successful here with a foreign name and without looking stereotypically German. In the best sense of the word, she's an example.
No religious statements - anywhere
So it's all the more astounding that a woman with such a fascinating life story is now being reduced in many headlines to "a Muslim." Of course, many media outlets here followed the tone set by dpa. But the surprise can only grow when you realize that Aras herself hardly ever makes an issue of her religious beliefs. The website of Baden Württemberg's Green party chapter mentions that she works with the Alevi community in the region - but there's no mention of religion to be found in her personal online footprint. So what has caught the interest of the newsmakers? Is it the self-fulfilling prophecy that Germans are afraid of an "Islamization" of the country? That won't be happening because of Muhterem Aras.
In this sense, a hefty extra dollop of sangfroid would be helpful. You could even follow the example of Baden-Württemberg's AfD party leader Jörg Meuthen, also a member of the state parliament, who commented on Aras' appointment as follows: "Millions of people of the Islamic faith belong in Germany, living among us, peacefully integrated. One of them is now the house speaker - so what?"
Have something to say? Add your comments below. This comment thread closes automatically after 24 hours.