I only ever met Boris Becker once. I ran into him on the set of a television broadcast many years ago. A polite, tall man in a pinstripe suit was waiting backstage to be called before the cameras. Becker will have long since forgotten about it, having met so many journalists over the years.
No, this isn't true, I tell myself. I imagine that I know Boris Becker inside out. As a tennis fan, I followed every single one of his important matches. Like many others, I too spent July 7, 1985 in front of the television.
Becker won Wimbledon at the age of 17, and he remains the youngest-ever men's champion. From there he went on to a successful career in professional tennis, winning five more Grand Slams. He is one of the greatest athletes this country has ever produced. He has had so many iconic moments, from his lunging volley to the clenched fist, and he's been the subject of so many tabloid headlines too.
Going up, going down
But what happened after that? What springs to mind is a quote about Boris Becker from the chairman of the Springer-Verlag publishing house, which publishes Germany's best-selling daily: "He who rides the elevator up with Bild, will also ride the elevator down with it!"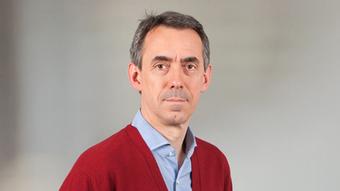 Marko Langer
This past summer's headlines were part of the trip down: Millions in debt to a London bank, horrible rates of interest, not to mention debts to Swiss businessman Hans-Dieter Cleven. Is Boris Becker bankrupt?
To me, Becker's life is like a five set tennis match. He was in the lead for a long time, but five-set matches take time, and they include setbacks. Such matches are only won by players who don't allow themselves to be dragged down by setbacks.
The stumbling blocks in the life of Boris Becker began after he ended his career as an athlete. There was the affair in a London broom closet, the less-than-successful car dealerships, the failed marriage with Barbara Feltus and later, even appearances wearing strange headwear on German television shows.
How could they?
Becker is not alone. Cyclist Jan Ullrich was found guilty of doping, then there's legendary footballer and tax evader Franz Beckenbauer, and womanizer Lothar Matthäus. How could they? The disgust expressed by the tabloids mirrors the national mood. We love our heroes as long as they are successful. We don't want to accept their falls from grace, even though we avidly take note of every detail and every rumor.
Victory and defeat – neither are to be trusted.
Why is this? It's because we Germans quickly become besotted with victory and that defeat is part of the game. Above the door that leads to Centre Court at Wimbledon are the words of Rudyard Kipling: "If you can meet with triumph and disaster / And treat those two imposters just the same."
This is the reason why tennis is such a great teacher. Becker loves to quote Kipling and he has understood his words, just as he understands the game better than most. He has been beloved in Great Britain ever since his first Wimbledon title. He is now one of the world's best tennis commentators. He is highly respected by those in and around the game. However, this long went unnoticed in Germany. It wasn't until he became the coach of Novak Djokovic that this started to change.
It was no coincidence that the Serbian's rung of bad form started when Becker quit, unhappy with his student's level of commitment in training and another strong influence who had gained Djokivic's ear. Together, the tandem of Becker and Djokovic was profitable for both. Now it's over – for both.
'I never was your Boris'
Boris Becker turned 50 this Wednesday. He is the father of Amadeus, 7, Anna, 17, Elias, 18, and Noah, 23. He lives with his wife Lilly in London. To mark the occasion, German public television station ARD produced a documentary on his life, which Becker used to try to reframe his relationship with the Germans, with those of us who think we know him.
"I was never your Boris," says the man, who demands respect from us. "Never. I was always me." This was a misunderstanding that lasted three decades.
The film depicts a man who has paid a high physical price for his sporting success. He is seen limping through Paris: His hips are broken, one of his ankles too. Victor Valderrabano, the Swiss surgeon who operated on Becker's foot, says it is surprising that Becker moves around as well as he does. Other patients who suffered from such deformation of an ankle would be in a wheelchair, says Valderrabano.
Not Boris Becker, the man who used to be known as "our Boris from (the small West German town of) Leimen." Mr. Becker will overcome once more. He has earned our reverence, first at 17 and particularly at 50.