John McCain is an old political warhorse. The Republican from Arizona reads the Europeans the riot act once a year and delights in his role as the gruff Cassandra of security policy. His appearances at the Munich Security Conference have become part of a transatlantic legend. This year, however, McCain began his speech with remarkable words of praise that he does not usually express: He thanked Chancellor Angela Merkel for her demonstration of leadership.
Merkel is losing allies
Word has reached the United States that the German Chancellor is under political pressure which could cost the USA a reliable ally and Merkel her office. She did not make an appearance at the security conference this year but her political fate has, nevertheless, been negotiated in Munich and perhaps even determined by others.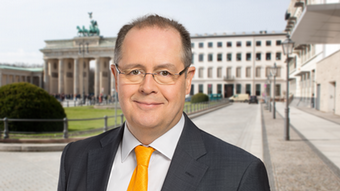 DW commentator Christian F. Trippe
On a public stage in Munich, French Prime Minister Manuel Valls openly declared that his country rejects Germany's refugee policy. France does not want to accept any additional refugees and Paris opposes Merkel's plan to oblige other EU countries to use a distribution key for migrants. Thus, Merkel has lost hope of maintaining a powerful ally in refugee matters. She can only fail at the EU summit next week.
The refugee crisis has already depleted so much of Merkel's political energy that she - unnoticed by many – has lost her grip in other areas. Two years ago, when Russia annexed the Ukrainian peninsula of Crimea and supported separatist insurgents in eastern Ukraine by supplying weapons and fighters, Germany took the lead in crisis diplomacy. The USA kept a low profile; US President Barack Obama let the Germans lead the way.
In recent weeks, the United States has changed gear and become more involved in the Ukraine crisis. The USA has engaged in quiet diplomacy in an attempt to breathe new life into the Minsk Agreement. In secret negotiations, the Americans probed the Russians on the chances of saving the agreement. Another foreign-policy success would be convenient for Obama, who is now nearing the end of his presidential term. But there is more behind US efforts: German-Ukrainian diplomacy has lost momentum in recent months.
Merkel's weakness suits Moscow
One correlation is obvious: the more refugees arrive in Germany, the less political energy the Chancellery has to channel into other issues. Some observers believe they can see a huge conspiracy in this connection: Vladimir Putin's bombing of President Bashar al-Assad's opponents in Syria causes more people to flee to Germany, and in turn, Merkel becomes weaker and may have to step down.
That would indeed prove that Putin, like a skilled puppeteer, can divert refugee flows and determine the fate of chancellors. However, a number of findings show less striking theories: Without question, Merkel's weakened position is convenient for Russia. On the other hand, even the USA contributes to the threats to the overall European project and in Angela Merkel's chancellorship.
The geopolitical conflict was even felt in the ballroom at the security conference. On a domestic level, Merkel's refugee policy has mainly drawn criticism from Bavarian Premier Horst Seehofer. He recently betrayed the chancellor on an international level when he visited Putin in Moscow. Senator John McCain found the visit so unappetizing that he did not join in Seehofer's invitation to a festive dinner in Munich on Saturday.
Do you have something to say? Add your comments below. The thread to this editorial closes in 24 hours.