Given his success in overhauling German football and winning a World Cup, it's unfortunate that the first reaction to Joachim Löw's planned resignation is to wonder: why now? And not simply, why?
The answer to the second question is all too clear.
Since Germany's abysmal performance in the 2018 World Cup, relegation from the Nations League and 6-0 hammering in Spain, the Germany head coach has had fewer and fewer advocates, in the public, the media and even among the ranks of his ex-players. Crucially for his job security though, the German FA (DFB) wavered but never fully turned its back on him.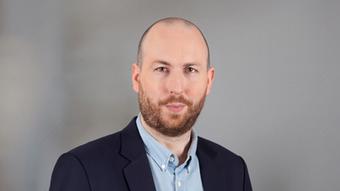 DW's Matt Pearson
There's a point to which that is understandable, to which loyalty and a commitment to stability is even admirable. But we passed it a long time ago. So why now?
Shaking things up
Löw arrived as Jürgen Klinsmann's assistant in 2004 on a wind of change, shaking up the German football system and, after becoming head coach in 2006, introducing an exciting brand of high-tempo football built around a young core of players outside the old German mold that ultimately won the country the World Cup in 2014.
But in recent years, it's become increasingly clear that he's become the thing he was hired to replace: the company man.
Each humiliation was followed by renewed pleas for patience during a rebuilding phase or even grand analyses and master plans for where it went wrong and what would change. The personnel on the pitch belatedly started to alter, most notably when Thomas Müller, Jerome Boateng and Mats Hummels were axed after 2018, but results failed to follow.
Löw's refusal to reevaluate a decision on Müller in particular was an indication of the stubbornness that has been to his detriment in recent years. Still just 31, Müller has been a major driving force for Bayern Munich, the best club side in the world, but only in recent days has Löw even hinted that he might change his mind.
That stubbornness also manifested itself tactically, with Löw struggling to adapt away from possession football and towards the kind of rapid, counter-attacking game that many of his new breed of players have grown up on.
His 2014 assistant, Hansi Flick, has shown that such adaptability is possible — but not under Löw.
Core of champions
And yet, for all that there's little public belief in the Nationalmannschaft right now, the talent is undoubtedly there. Manuel Neuer, Joshua Kimmich, Leroy Sane, Leon Goretzka, Kai Havertz, Ilkay Gündogan and Serge Gnabry would be contenders in any international squad in the world and, though the defensive ranks aren't what they were, there's enough there to win a tournament, whoever is in charge.
And perhaps Germany will win these postponed Euros, wherever they take place, and Löw will ride off into the sunset as only the second German boss to win a World Cup/Euros double after Helmut Schön in the mid-70s with West Germany.
If they do, perhaps the last three years of regression were all part of the process after all, or perhaps the core of a Bayern Munich side who hold the Champions League and Club World Cup are simply good enough to win matches regardless.
But in the likely event that they don't, Löw's successor will have to blow off the lingering cobwebs in the way he did himself back in 2004.
He'll always have Rio and the Maracana, but leaving the job as he found it won't be much of a legacy.