No decision is also a decision. Not even a bad one as far as pro-European forces in the Republic of Moldova are concerned. Their candidate, former minister of education Maia Sandu, did better than expected in the first round of the country's presidential election. Her opponent, the pro-Russian Socialist party leader Igor Dodon, won the vote's first round but fell short of gaining an outright victory. His aggressive campaign against Moldova's closer relationship with the European Union apparently hurt him more than it helped.
Pro-Moscow is not anti-Europe?
Dodon will have to get busy before the runoff in two weeks. He will have no choice but to get out and convince his countrymen that his pro-Russian stance is not about being anti-European. It is doubtful that he can successfully do so. Moldova's youth certainly won't buy it. Dodon is originally from Moldova's Party of Communists, which ruined the country.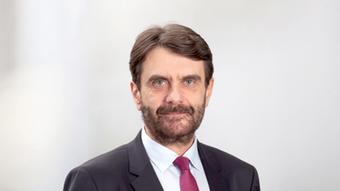 Robert Schwartz writes for DW's Romanian department
Yet Maia Sandu is in a tough spot, too: Her pro-European camp has not necessarily earned a sterling reputation over the years. Many Moldovans blame the pro-European policies of the current government for the deep economic crisis that has been plaguing the country, rather than widespread corruption and backroom deals made between oligarchs. Sandu has pledged to fight the corrupt establishment and the unlimited power of the oligarchs. Her simple and open manner make her believable and could help her mobilize undecided voters. It is certain that she will win the majority of the vote among residents in the capital, Chisinau, as well as those Moldovans who left their country in disappointment. But that will not be enough to make Moldova's European dream a reality. She will have to convince a portion of the country's rural population that her policies are the right ones. A Soviet-style restoration would only worsen the catastrophe in Moldova.
Pro-EU policies have failed to bring prosperity
Many people in Moldova are disappointed with the EU. They had hoped the country's pro-European policies would bring prosperity - yet they didn't. A trade embargo, put in place by Russia after Moldova signed an association agreement with the EU, drove many of the country's farmers to ruin. It was late, too late for some, by the time the EU reacted to the situation. Unfortunately, the West missed the opportunity to give Moldovans the feeling that they and their concerns were being taken seriously. Even Moldova's sister country, Romania, has been reluctant to help.
Sandu has gotten clear political backing from Brussels and Bucharest, but on the ground she has had to count mainly on her own personal powers of persuasion. She also needs the unified support of forces within her hopelessly quarrelsome pro-European camp. Though we will have to wait until November 13 to find out if she does. If not, the dream of a European Chisinau will have burst like a bubble.
Have something to say? Share your comment below. The thread will remain open for 24 hours after publication.