When a previously agreed tranche of 50 million euros ($59 million) from Etihad was not transferred to Air Berlin's account last Friday, alarm bells rang at the headquarters of Germany's second-biggest carrier. It finally dawned on the airline's management that the sheiks of Etihad Airways had cut off their money supply.
This didn't really come as a big surprise, since Etihad, once a major player among Gulf airlines alongside Emirates and Qatar Airways, has enough problems of its own. Etihad's strategy of buying into troubled competitors has failed miserably.
Gigantic debt levels
Perhaps Etihad's underlying strategy was to lull rivals into a sense of security and then let them die slowly, whilst collecting the valuable bits and pieces and taking over important routes. But with Air Berlin and Alitalia, Etihad has had to grapple with two formidable money-burners, which are now being bailed out by the taxpayer.
Read also: Air Berlin files for bankcruptcy protection
Air Berlin's debts currently amount to 1.2 billion euros. Since 2011, i.e. since its first investment in the German carrier, Etihad has pumped over 1.5 billion euros into its ailing subsidiary. Etihad pledged in the spring of this year that it would continue to provide additional financial support for at least another one and a half years. But in the end, it decided against it.
Passengers who have flown Air Berlin in recent months have been able to see for themselves what a terrible state the airline has been in. There have been many cancellations, massive delays, and ticket transfers to dubious carriers. I wouldn't be surprised if damage claims to the tune of millions of euros are on their way.
Everything under control? Forget it!
At its London shareholders meeting in June, Air Berlin executives bent over backward to present an optimistic outlook, despite earlier speculation about the carrier's desolate situation and the need for public guarantees. But shareholders were told that everything was under control and that the situation wasn't nearly as bad as portrayed. There was no talk about possible insolvency procedures.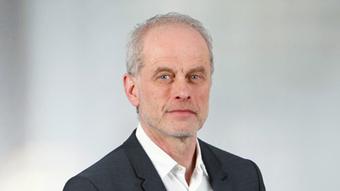 DW business editor Henrik Böhme
And now, only two months later, we have a complete admission of failure. How blind must executives have been to not be aware of Etihad's own problems?
The taxpayer is now once again called upon to come to the rescue, with a 150-million-euro loan to prevent Air Berlin from stopping operations immediately, in the middle of the holiday season. The government may have reasoned it might not be a bright idea to cause chaos for travelers by declining to provide a shot in the arm.
Air Berlin, for its part, is now suffering from the many strategic blunders it has made over the past few years. It got worse with every decision taken and every management reshuffle. Whenever a hole was plugged, two new problems seemed to appear elsewhere.
Domestic rival Lufthansa, which has already taken over 38 Air Berlin planes and concomitant staff, will look over what's left of its erstwhile competitor and will most likely boost its own no-frills subsidiary, Eurowings, with the pickings.
It remains to be hoped that many of Air Berlin's 8,500 employees will keep their jobs. After all, the vast majority of them cannot be blamed for the corporate disaster at hand. If that happens, the government's new loan guarantee will be money well spent.