In an open letter to Chancellor Angela Merkel, thousands of Ph.D. students and graduates have reportedly labeled the plagiarism scandal involving Defense Minister Karl-Theodor zu Guttenberg as a "mockery" of the research profession and doctoral process.
"The place of the sciences in Germany and the credibility of Germany as a country of ideas have suffered as a result of the trivial handling of the Guttenberg case," the letter said, according to the Hamburg Abendblatt newspaper
"Merkel's treatment of the plagiarism affair suggests that obtaining a doctorate through fraudulent means is a harmless crime," it added.
Tobias Bunde, who helped formulate the document, said that "up until Sunday evening around 19,354 people had signed the letter," Hamburg Abendblatt reported. "And around 15 people are signing the letter every minute."
Guttenberg has been under fire recently over revelations that he copied parts of his dissertation from other works without using proper attribution. He has since been stripped of his doctorate.
Guttenberg admitted having made serious mistakes in his dissertation, saying he was under enormous pressure as a father and member of parliament during the years he worked on it. But the 39-year-old maintains he did not deliberately copy anything.
Guttenberg 'unaffected'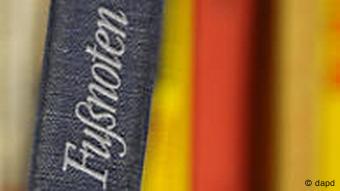 Guttenberg's grandfather authored a book on footnotes
On Monday, he told a board meeting of the Christian Social Union (CSU) party, of which he is a leading member, that the affair has not affected his work as Germany's defense minister.
The debate has exposed cracks in the ruling coalition, with the head of the CSU, Horst Seehofer, coming down hard on comments on the matter made by Christian Democrat (CDU) Norbert Lammert, president of the Bundestag, the lower house of parliament.
Lammert was quoted by the Mitteldeutsche Zeitung newspaper on Monday as saying the Guttenberg affair was a "nail in the coffin for trust in our democracy." But Seehofer quickly shot down the remarks, labeling them immoderate. The CSU is the CDU's Bavarian sister party.
But despite the intense scrutiny Guttenberg has faced since the scandal broke, almost half of all Germans surveyed still felt he could one day be chancellor.
In the survey by TNS Emnid released Sunday, 46 percent of respondents said he still had what it took to lead the country. Guttenberg is widely viewed as one of Germany's most popular politicians, notably ahead of Angela Merkel.
Author: Darren Mara (Reuters, AFP, dpa)
Editor: Martin Kuebler