German Defense Minister Karl-Theodor zu Guttenberg came under fire from the academic community on Saturday, days after he was stripped of his doctorate over revelations that he copied parts of his dissertation from other works without proper attribution.
"We have been taken in by a fraud. It is an unparalleled cheek, the way he deceived honorable people at the university," law professor Oliver Lepsius, the successor to Guttenberg's doctoral supervisor at Bayreuth University, told Munich-based daily Süddeutsche Zeitung.
Lepsius said Guttenberg had "intentionally and systematically" plagiarised academic sources, as against the defense minister's claim he had not done so on purpose.
Bayreuth University is investigating whether Guttenberg deliberately misled examiners by copying large sections of text from previously published material in his thesis, which compares the constitutional development stages of the US and EU.
The university stripped Guttenberg of his doctoral degree, arguing that the thesis failed scholarly standards, regardless of whether there had been cheating.
Academics doubt copying was accidental
Guttenberg admitted having made serious mistakes in his dissertation, saying he was under enormous pressure as a father and member of parliament during the years he worked on it. But the 39-year-old maintains he did not deliberately copy anything.
But several lawyers and academics have expressed doubts that Guttenberg could have accidently copied more than 100 pages of his thesis.
Criminal law professor Thomas Weigend, at Cologne University, told Der Spiegel news magazine that he would not believe a candidate who claimed the missing citations were "simple negligence."
Lawyer Hichael Hofferbrert, who specializes in disputes over academic theses, told Der Spiegel, "No judge will believe a candidate who copies more than a hundred pages of his doctoral thesis and later claims to have done so by accident."
Expert warns against playing down affair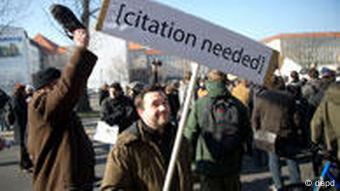 Demonstrators rallied in Berlin on Saturday, calling for Guttenberg's resignation
Meanwhile the head of German research society DFG, Matthias Kleiner, warned against playing down the seriousness of plagiarism.
"Academics share their ideas and insights and develop them further, but they don't steal them," Kleiner said, adding that intellectual property was just as valuable as material assets.
So far, the popular minister has resisted calls to resign. Chancellor Angela Merkel has repeatedly come out in Guttenberg's support, but it could become harder for her to retain the minister if it emerged that he wilfully misled university examiners.
Author: Natalia Dannenberg (dpa, AFP)
Editor: Sonia Phalnikar