If German Defense Minister Karl-Theodor zu Guttenberg were a boxer, you might describe him as down, but not out. It's very clear both that Guttenberg intends to fight on, and that his political allies are not planning to throw in the towel on his behalf.
The embattled minister has admitted that parts of the dissertation which earned him a doctorate in law are not his own work. However, he also says that he wrote it himself, and that he is not guilty of plagiarism.
"Plagiarism requires... that one consciously and intentionally cheated," Guttenberg told parliament earlier in the week when addressing the issue. "And I've made it clear in all of my statements that I did not intentionally or consciously deceive, but that I did make serious mistakes."
Even if he is on the ropes, the defense minister has a powerful German player fighting his corner. The relationship Guttenberg shares with Bild, the most read newspaper in Germany, is perhaps his greatest strength. Bild is the main tabloid arm of the Springer media empire - which is similar, in terms of scope and political stance, to Rupert Murdoch's News Corporation in the English-speaking world.
The power of a paper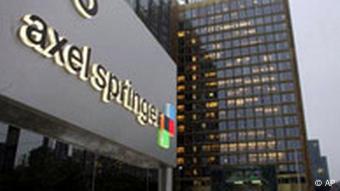 Arguably the most important building in German news
Bild called on its readers this week to phone in with their opinion of Guttenberg, announcing in its front-page headline on Thursday: "'Yes, we stand behind Guttenberg!'" The paper reported that 87 percent of respondents, over 260,000 people, said the defense minister did not need to resign.
However, Bild's online survey yielded different results, with 55 percent of the over half a million clicks calling on Guttenberg to quit.
After reports in the media on Friday that the young conservative Christian Democrat movement in Germany, the "Junge Union," had appealed to its members to participate in Bild's phone-in poll, the tabloid giant responded with an article calling the veracity of online surveys into question. Across the board, Guttenberg tends to fare less well in Internet polls than phone-ins.
Bild is clearly more supportive of right-leaning parties like Guttenberg's than, for instance, of the Social Democrats or the Greens, Professor Manfred Schmidt, a political expert at the University of Heidelberg, commented. However, the special relationship with the defense minister runs deeper than that.
"The more important factor has got to do with Bild's market," Schmidt said. "It is a populist paper. And because Guttenberg is the embodiment of a highly populist politician, one of the few we have in Germany, he is an ideal object with whom Bild can and does cooperate."
Jared Sonnicksen, a political expert at the University of Bonn, agrees. "I think if this scandal were to revolve around somebody else, say Social Democrat leader Sigmar Gabriel, my intuition says there would be calls for his resignation from Bild, and much of the German tabloid press. I think it would be much more heavily scandalized," he said. "Bild's more or less open stance in support of Guttenberg surely says something, even if I'm not sure exactly what."
The power of populism
Guttenberg announced on Thursday that he would be launching a media campaign aimed at recruiting new soldiers for the German army, in cooperation with Bild. In the Bundestag, Green party Chairman Jürgen Trittin promptly accused Guttenberg of sealing a "dirty deal" with the Springer concern.
Guttenberg's success with the popular press can probably be traced back to his unusual style within German politics. The young, media-savvy, wealthy nobleman with an attractive wife is a wholly atypical German politician, formed more in the mold of the modern Anglophone leader. Unlike Germany's serious, measured, well-informed and rather dry chancellor, Guttenberg is a populist - a confident, wise-cracking speaker, often accused of arrogance by his peers.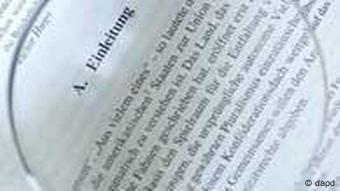 The thesis' introduction contained plagiarized passages
"The problem with Guttenberg is that this is someone who's presented and postured himself as someone who stands for authenticity and principles," Sonnicksen said. "So, he may not have very much idea about the subject area and the competency, but that's OK, because he has the right values."
Political scientist Manfred Schmidt from the University of Heidelberg also says Guttenberg's major problem at the moment is his self-made image as a politician priding himself on integrity.
"This is clearly one of the biggest weaknesses for Guttenberg. There's a big chasm between what he modeled himself as and what he now is," Schmidt said.
In a sense though, Guttenberg is trying to maintain this image through the defense he has employed, seeking to portray his indiscretions as the honest mistakes of a man with too many demands on his time, not as calculated acts of deceit designed to further his career.
"It is a very serious breach of academic rules that he has committed - it is very serious," Professor Schmidt said. "But academic arrangements are one world, and politics is a different world. If the majority of the population or at least half of the population is in favor of the defense minister even now, then he is politically in a relatively stable position - although he is much weaker than before."
The power of the people
Turning weaknesses into strengths has been one of the defense minister's defining characteristics. Guttenberg, or to give him his full name, Karl-Theodor Maria Nikolaus Johann Jacob Philipp Franz Joseph Sylvester Freiherr von und zu Guttenberg, would seem to be poorly placed to portray himself as a man of the people. His hometown, after all, is Guttenberg, Bavaria. And his wife, Stephanie, is the great-great-granddaughter of Germany's 19th century unifier, Otto von Bismarck, the "Iron Chancellor." Stephanie zu Guttenberg campaigns against child abuse
Guttenberg overtook Angela Merkel as the country's most popular politician in the summer of 2009. Less than a fortnight ago, he was the undisputed shooting star of German conservatism, and was considered a natural successor either to Chancellor Angela Merkel or to Bavarian State Premier Horst Seehofer.
"I wouldn't say Guttenberg's a black hole now, but his star is shining much less brightly," political analyst Jared Sonnicksen said. "Still, a lot indicates that he is going to remain defense minister. He has support from his party, a lot of Germans say despite what has now been proven - that he committed plagiarism - he's still a good defense minister."
Sonnicksen believes that this affair may actually have ingratiated him with his political allies, helping to secure their support.
"I imagine a lot of people in his party quietly or secretly are relieved that he is not as popular anymore, that positions him better because he doesn't shine more brightly than the others. Certainly Chancellor Merkel must appreciate this fact, and Horst Seehofer as well."
Author: Mark Hallam
Editor: Nicole Goebel