Brockhaus, the printed German equivalent of the Encyclopedia Britannica, was deemed a thing of the past on Sunday. Its publisher, a subsidiary of Bertelsmann, quashed, however, rumors of a complete end, saying online updates would continue.
The subsidiary Wissensmedia [translated as Knowledge Media] said "for still some years to come" its editorial team in Gütersloh in northern Germany would draw on "numerous" experts and scientists as authors.
Brockhaus emerged in 21 editions. Last published in 2006, the 30-volume reference work spans 1.5 meters (4.9 feet), weighs 70 kilograms (154 lbs), and contains 35,000 maps, graphics and tables.
The media giant had signaled the demise of the printed Brockhaus a year ago, and on Sunday the subsidiary Wissenmedia said, "There are no more issues in the warehouse."
"From now on Brockhaus is only available as used copies [from owners] or just online," it said.
Last deliveries in February
In February, Bertelsmann ceased deliveries of remaining print copies to the retail book trade, which once accounted for 85 percent of earnings from Brockhaus, but left open the question on whether it would continue to electronically update the collection.
On Sunday, the publishing house confirmed that the 300,000 articles in Brockhaus would "be further updated" for signed-up customers.
These include schools, universities, commercial enterprises and repositories such as the Bavarian State Library.
'The' standard reference
Over 200 years, Brockhaus came to be widely regarded as "the" standard reference work worldwide among German-language speakers - also in Austria.
It originated in Leipzig as a "conversational lexicon" published in the late 18th century by Renatus Gotthelf Löbel and Christian Wilhelm Franke - parallel to encyclopedias in other languages.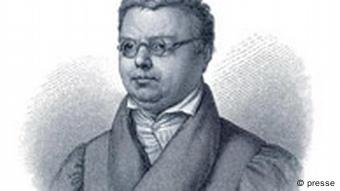 The encyclopedia owes its name to Friedrich Arnold Brockhaus
Napoleonic era start
Friedrich Arnold Brockhaus bought the rights to publication in 1808. He edited the second edition. His two eldest sons and other experts went on to compile later editions.
The 15th edition was disrupted by World War I. It finally appeared in 1925. The final full printed edition - the 21st - emerged in 2006, costing each purchaser nearly 3,000 euros ($4,000).
Online version foreshadowed
In 2008 the-then owner Brockhaus AG said it would launch an online version but that project was put on ice. Shortly afterwards, the giant publishing concern Bertelsmann bought the title Brockhaus.
A spokesman for Bertelsmann-Wissensservice said on Sunday internet portals such as Wikipedia had made life increasing difficult for printed encyclopedias.
Britannica's owners stopped print production in 2012, but continued with the digital versions. Britannica began life in Edinburgh, Scotland, in 1768.
Challenge from Wikipedia etc.
Earlier this month in London, Wikipedia founder Jimmy Wales said users thought his online service did a "decent job."
A YouGov survey found that among British people 83 percent regarded the Britannica as their most reliable source of information. 64 percent trusted Wikipedia, while 45 percent trusted newspapers such as The Times and The Guardian.
ipj/nm (AFP, dpa)