The result of the German Cup semi final between Louis van Gaal's Bayern Munich and Felix Magath's Schalke 04 could have an impact way beyond who won the right to contest the trophy against MSV Duisburg on May 21 in Berlin.
With Magath's Schalke still not entirely safe from relegation after a horrendous start to the season, the cup provided the coach with his only decent chance of silverware this season. (Schalke are still in the Champions League of course, but few see them as realistic contenders.) The German Cup was Magath's opportunity to show those who have doubted him - and there have been many as of late - that he could still deliver success. He did.
Before the season van Gaal expected to be challenging for everything. The Dutchman probably wasn't alone in believing that his double-winning team of last year could probably go one better and capture an unprecedented league, cup and Champions League treble in this campaign. After all, at times last year, it looked all too easy for Bayern.
They endured a rough start to last season - nearly as rough as they did in this one - but when it came to the business end of the campaign, the Bavarian giants began to sweep all before them. Only a resolute and well-drilled Inter Milan stopped them in the end - and Jose Mourinho's men too, of course, were chasing a historic treble of their own.
Low balance alert
That van Gaal now has only one chance of silverware open to him now shows the extent of how his team has failed to live up to the standard they set last season. The Dutchman started out in August with considerable credit in his account. Now it's March, and the coffers look empty.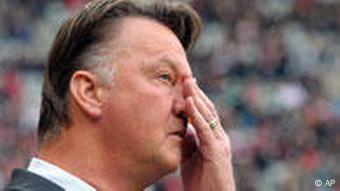 The pressure increases on van Gaal after the German Cup loss
"Last season Bayern Munich and Louis van Gaal looked like a marriage made in heaven but now you feel that the divorce won't be long coming," Bundesliga commentator Paul Chapman told Deutsche Welle. "Last season, he tinkered with the team but he got everything right. This season he's been totally stubborn, gone his own way, and many things have gone wrong."
Chapman believes that van Gaal's lack of a Plan B and his over-reliance on stars like Arjen Robben and Franck Ribery have undermined the success of last season. With Bayern out of the running for the league title and now out of the cup, Chapman says Bayern's season - and van Gaal's future - rests on Champions League success.
"Even if Bayern do stumble to second place in the Bundesliga and automatic qualification to the Champions league, I would suggest that Louis van Gaal's job at Bayern now hangs by the slenderest of threads and that the thread will be cut the moment Bayern Munich drop out of the Champions League."
Zero to hero
In contrast, Felix Magath looks almost certain to continue his pursuit of success at Schalke. Despite a very poor league season, his Royal Blues are still in with a shout in the Champions League, and now have a good chance of winning a trophy in the German Cup final against second division side MSV Duisburg. And while the slim margin separating them from the drop-zone (six points) is too close for many fans' comfort, few would now bet on the team's stumbling badly enough to actually go down.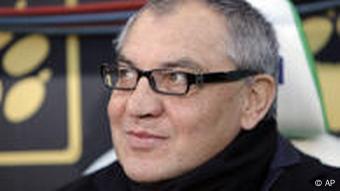 Magath endured a nightmare start but things are looking up
It wasn't always like that of course. Magath suffered through a winter of massive discontent at the end of 2010, a period during which Schalke looked simply inept and his own management skills were regularly called into question. It seemed as though the man who had won league titles with Bayern Munich and Wolfsburg was heading for the chopping block before the Christmas decorations had even been put up around the Veltins Arena. Schalke were relegation candidates and Magath was odds-on to be among the first high-profile sackings of the season.
Three months on, Magath and Schalke's outlook has changed.
"The victory over Bayern in the German Cup was terrifically important for Schalke because they have now the possibility to qualify for Europe," Marcus Bark, a Schalke beat reporter, told Deutsche Welle. "Because the cup final is on May 21, Magath can constantly refer to the possibility of winning a title until the end of the season. He will only really have serious problems again at Schalke if the team gets into trouble in the Bundesliga again."
Not all roses
The possible qualification for the Europa League through a German Cup victory, however, could present Magath with its own set of problems.
The Europa League pays out much less than the Champions League and Schalke's financial report this spring should make for uncomfortable reading. Magath may face a summer of culling his playing and coaching staff - the salaries of which take up more than 50 percent of Schalke's turnover - to make ends meet.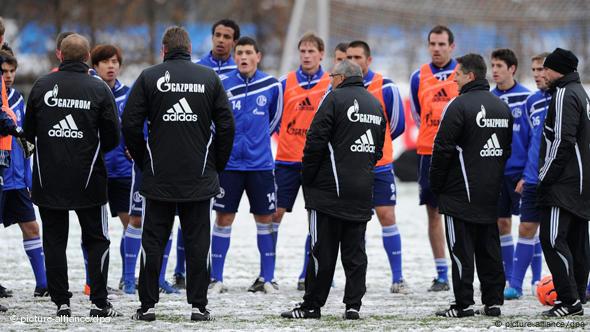 Some say that Schalke's first team squad is too large and should be cut - not just to save money
However, the financial situation at the club may have also gone some way to save Magath from the axe. That's down to his long-term contract.
"The cost of firing Magath and his coaching team would have been around 20 million euros," said Bark.
For that reason, the fact that Magath can now look towards a possible trophy and a potential money-making quarter-final appearance in the Champions League will come as a relief to Schalke's board. They had resisted the ever-increasing calls from fans to sack Magath in large part because of the cost. Now those calls should die down.
So the former Hamburg midfielder looks like he will survive a season in which he has spent most of it marked for death while the Dutchman appears to have blown all the goodwill and confidence afforded him after Bayern's famous near-treble. Come next season, Magath will be executing his plans to get Schalke off to a faster start. Van Gaal, meanwhile, is likely to be referred to as "the former coach of Bayern Munich."
Author: Nick Amies
Editor: Matt Hermann