Rumours of the scandal have been circulating for quite some time. Investigations are believed to have begun two months ago, and for the time being they're still under wraps. Greece's economic prosecutor Panagiotis Athanasiou intervened in mid-January and demanded a comprehensive explanation. By this time the Athens public prosecutor's office had already searched the offices of the Swiss pharma concern Novartis in the Greek capital, and had asked the US justice department to assist them with their investigation. The alleged crimes are money laundering and tax evasion.
Shortly after New Year, another shocking incident was revealed: A Novartis manager with many years' experience in the business' Greek market had walked out onto a high terrace of the Hilton Hotel in Athens and threatened to jump off. Greek observers believe that he may have been summoned to give evidence in the case. Police negotiators were able to prevent the suicide at the last minute.
A particularly controversial element is the question of whether the pharma giant paid bribes to Greek officials, politicians, and doctors in public hospitals. Whistleblowers have passed documents to the judicial authorities which are said to indicate that at least 4,000 people in Greece were targeted, and were given money or received other financial benefits. Lawyer Konstantina Fundea, a legal advisor to several Novartis employees in Greece, told DW that people who didn't go along with it were subjected to workplace harassment. And a former company employee who wished to remain anonymous, told the"Kathimerini" newspaper that in recent years he and his colleagues in Greece felt "like warriors with high sales targets that absolutely had to be achieved" – even though the pharmaceutical market kept shrinking because of the economic crisis.
Novartis seemed to be taking the accusations seriously. "We are cooperating fully with the local and foreign authorities," a company spokesman said recently in Basel.
Politicization of the affair
The justice departments have not commented on the investigation. Legal experts have also refrained from commenting on the ongoing proceedings. But members of the Greek government are sometimes all the more forthcoming. Pavlos Polakis, Greece's alternate minister of health, has spoken of a "new Siemens affair" in Greece, with suspicions that "illegal funds of more than four billion euros ($4.2 billion)" were involved. The left-wing politician has claimed that some people had been "putting their hand deep in the honeypot," but did not present any concrete evidence.
His former boss, Panagiotis Kourouplis, who has in the meantime moved to the Ministry of Mercantile Marine, said that "many people – politicians, doctors and journalists" were involved in the affair. This sounds like a dig at the conservatives and socialists who used to alternate in government. However, both these parties have accused the current left-wing Athens government of corruption and involvement with business interests. Fighting corruption and an economy based on people reciprocating 'favors' was one of the key election promises of Greece's left-wing prime minister, Alexis Tsipras.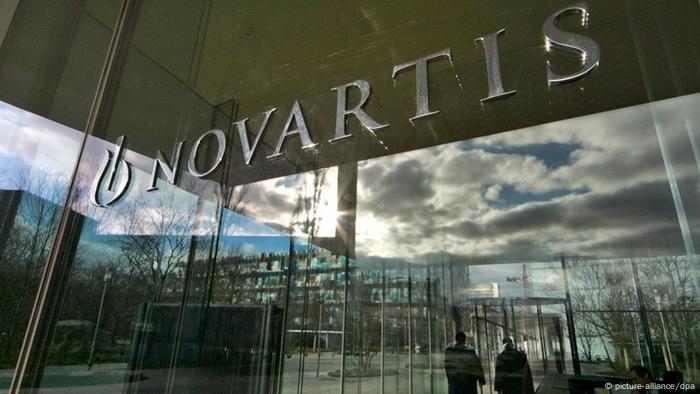 Novartis' headquarters in Basel, Switzerland.
Bank accounts to shed light on the case
The accusations are not entirely new. A previous alternate minister of health, Marios Salmas, highlighted corrupt business practices in the pharma industry as early as 2012, when he asked inspectors from his department to provide an expert opinion. However, their report was not particularly informative, and even the general inspector for public administration, brought in to pursue the matter, did not get anywhere with his own investigations.
It was only after the accusations were made against the Swiss company in recent days that Salmas spoke out and asked for an appointment with the corruption prosecutor Eleni Raikou, who is also looking into the Novartis case. After this meeting, the conservative politician made the following statement: "During my period in office I cut annual state spending on medications from four to 2.3 billion euros. This decision dramatically reduced the profits made by all the pharmaceutical companies, including Novartis. I now wish[ed] to use my experience to assist Ms Raikou of my own accord."
By saying this, Salmas addressed a tricky point: Both he, a conservative, and the left-leaning newspapers accuse Novartis of selling medicines and services to state clinics at inflated prices – and this poses the question of whether a lack of transparency in the procurement system may have led to this cost trap.
The Athenian lawyer, Konstantina Fundea, also reports that in recent years state hospitals had been forced to pay too much for the Swiss company's medicines. In any case, the Novartis scandal does seem to have had consequences for foreign pharma concerns in Greece. According to reports in the Greek press, Minister of Health Andreas Xanthos wants to abolish his department's formerly all-powerful price commission, which included pharma managers from the private sector. In future, the sale price for medicines is to be set by the state medicines agency (EOF).
As far as the accusations of bribery are concerned, the state prosecutor is currently examining files and bank transactions of doctors suspected of receiving money from Novartis. The investigators want to use these to trace the flow of money.