On Wednesdy, a South Korean official has accused North Korea of disrupting 252 civilian flights since Saturday by transmitting jamming signals.
"We have confirmed the GPS (global positioning system) jamming signals have been stemming from the North," said Lee Kyung-Woo, a deputy director at the state Korea Communications Commission.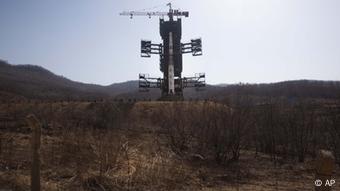 The North's controversial rocket launch attracted international condemnation
This is not the first time that Seoul has accused Pyongyang of jamming GPS systems, however, on previous occasions it did not report disruption of as many civilian flights.
The South Korean aviation authorities said none of the flights were in danger.
"Despite disruption in GPS, there is no serious threat to the safety of flights because planes are using other navigation devices," said Kim Choon-Oh, a South Korean transport ministry official. Kim, however, admitted that the widespread disruption of flights was unusual.
No military effect
South Korea's military officials said the electronic jamming had no effect on military operations. But the North's capability to jam the South's electronic systems has been worrying Seoul for quite some time. In October 2010, Kim Tae-Young, South Korea's then-defense minister, said that Pyongyang's jamming device posed a new threat to Seoul and was capable of disrupting its guided weapons. He told parliament that the imported Russian equipment could affect devices up to 100 kilometers away. He also blamed Pyongyang for the intermittent failure of Seoul's naval GPS receivers in August 2010.
A lot of rhetoric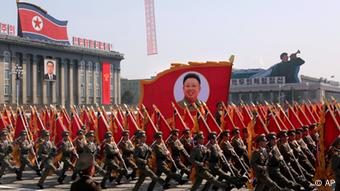 The communist nation has threatened to destroy its southern neighbor
The jamming incident occurs at the time of heightened military and political tension between the two Koreas; Last month, North Korea conducted a failed rocket launch and observers believe the reclusive country is currently planning to carry out a third nuclear test. One source with ties to Pyongyang and Beijing told the Reuters news agency preparations for it were "almost complete."
The developments come during a leadership transition from Kim Jong-Il to his son Kim Jong-Un, who assumed power after his father's death in December last year. North Korea has recently issued stark statements to the South, calling South Korean President Lee Myung-bak a "rat" and a "bastard" and threatening to turn its southern neighbor to "ashes" through "unprecedented, peculiar means."
shs/sb (AFP, Reuters)