The road trip drama Nomadland by US-based Chinese director Chloe Zhao on Saturday won the Golden Lion award for best film at the Venice Film Festival.
The film, starring double-Oscar winner Frances McDormand, is about a widow who takes to the road in a van when she loses her home.
Zhao won the award 10 years after the last woman to do so, Sofia Coppola, who received a Golden Lion for her film Somewhere.
Read more: Venice in times of coronavirus: Relaxed and unique
Acceptance by video
Zhao and McDormand accepted the award from the United States by video, with travel restrictions imposed during the coronavirus crisis making it difficult or even impossible for guests from the US to get to Venice for the event.
The Silver Lion for best director went to Kiyoshi Kurosawa of Japan for Wife of a Spy and the Silver Lion grand jury prize was awarded to Mexico's Michel Franco for Nuevo Orden, a dystopian drama.
In other prizes, Italy's Pierfrancesco Fabino won best lead actor for Padrenostro (Our Father), a coming-of-age drama set in the Italy of the 1970s. The award for best lead actress went to Britain's Vanessa Kirby for Pieces of a Woman about a woman grieving for the death of her newborn daughter during a home birth.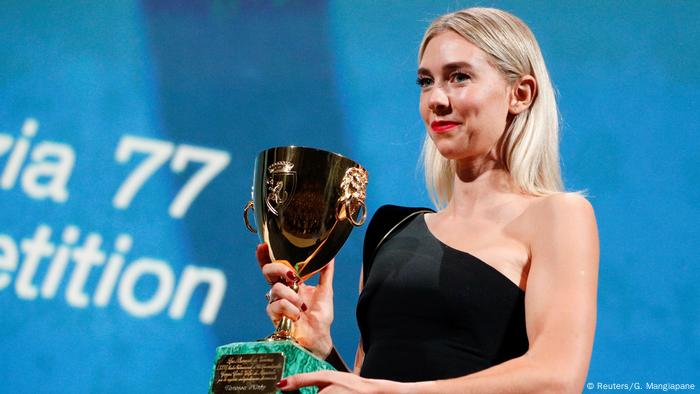 Vanessa Kirby received the Coppa Volpi for best lead actress
Andrei Konchalovsky of Russia received a special jury prize for Dear Comrades! The film, about the massacre of striking workers in Novocherkassk in 1962, had been considered one of the favorites for the top prize.
Read more: Venice Film Festival: Cinema as the antidote to coronavirus depression
Coronavirus leaves its mark
The Venice festival was the first major international movie competition to take place this year after others were canceled, including the renowned Cannes Film Festival. The city decided to go ahead with it just months after the region had been one of the worst-hit by the coronavirus pandemic in Europe.
However, the event was far more low-key than in former years, with only half the usual number of people attending and anti-coronavirus measures in place. Despite these, organizers said they were pleased at the diversity on display, with 50 different countries represented.
Eight of the films in the main competition for the top prize were directed by women, a trend many hope will continue after much criticism of the lack of gender diversity at many major festivals.
The festival is seen as a barometer for the Oscars later in the year.
tj/mm (AFP, Reuters)