The Paris prosecutor's office said on Thursday that judges had completed their inquiry into allegations of sex crimes, including rape on minors, by the French soldiers.
French newspaper "Le Monde" reported that the decision to close the investigation without pressing charges stemmed from insufficient evidence.
The troops implicated in the case were part of Operation Sangaris, deployed to CAR to restore security amid fierce fighting between Christian and Muslim communities, and to fend off the Seleka rebel movement, which threatened the capital Bangui.
Pre-teens among the victims
In April 2015, a leaked United Nations report cited claims from children as young as nine who said they'd been sexually abused, including sodomy. The youngsters were living in refugee camps for the displaced near Bangui airport and had been allegedly offered food in return for sexual favors.
Spokeswoman for the Paris prosecutor's office Agnes Thibault-Leroux said the investigation by three judges, which began in May 2015, formally ended last month.
The Agence France-Presse news agency cited a source close to the inquiry as saying that prosecutors had been unable to corroborate allegations against the soldiers.
UN spokesman Stephane Dujarric said he understands that it's now up to the prosecutor to decide whether to go forward, following the submission of results from the investigative judges.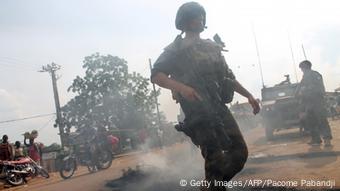 French troops were sent to the Central African Republic in 2014
"So obviously we'll keep an eye on this," Dujarric said. "But as we've said, it is the responsibility of member states to fully investigate and hopefully prosecute crimes. The fight against impunity for these horrendous actions has to be a partnership between the UN and member states."
Second probe ongoing
A separate probe into alleged sexual abuse by UN peacekeepers and French troops between 2013 and 2015 in the town of Dekoa is ongoing. The UN referred the allegations to the French defense ministry in April 2016.
The respected French news site "Mediapart" published on Tuesday the testimonies of several victims who allege sexual abuse by French soldiers.
At the time, the U.N. reported that more than 100 girls and women have come forward with sexual abuse accusations against international troops in CAR.
mm/dr (AFP, AP)