Attahiru Jega, chairman of the Independent National Electoral Commission (INEC), said on Saturday that security chiefs had advised a six-week postponement from the original date, as troops would not be available due to operations against Boko Haram militants in the country's troubled northeast.
"If the security of personnel, voters, election observers and election materials cannot be guaranteed, the lives of innocent young men and women and the prospect of free, fair and credible elections will be greatly jeopardized," Jega told reporters.
A request to delay the election had previously been submitted by Nigeria's national security adviser to allow more time for voter card distribution.
Observers now fear, however, that postponing the presidential election by six weeks could stoke unrest in opposition strongholds such as the commercial capital, Lagos, and Nigeria's second city, Kano.
The postponement has been seen by critics as a ploy by President Goodluck Jonathan and the ruling People's Democratic Party (PDM) to buy time to sway support from the popular main opposition candidate and former military dictator, Muhammadu Buhari.
Fight against Boko Haram
The US has been urging Nigeria to press ahead with the vote. In a visit to Nigeria two weeks ago, US Secretary of State John Kerry said that "one of the best ways to fight back against Boko Haram" was by holding credible and peaceful elections, on time.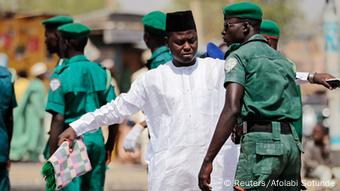 More than a million people have been displaced by the conflict
The dynamics of the Boko Haram conflict have changed rapidly over the last 10 days, with neighboring Chad, which boasts one of the strongest armies in the region, having also joined the fight.
Nigeria and Chad have claimed huge successes this week, but Boko Haram's defeat is hardly imminent. More than 1 million people have been displaced by the conflict.
On Saturday, African Union officials also brought to a close a three-day meeting in Yaounde, Cameroon's capital, which aimed to finalize details of a 7,500-strong force from Nigeria and its neighbors Chad, Cameroon, Benin and Niger.
Fears of unrest
The deadline for a new government to be installed will be May 29.
Supporters of both sides are threatening violence if their candidate does not win. Some 800 people were killed in riots in the mainly Muslim north after Buhari, a Muslim, lost 2011 elections to Jonathan, a Christian from the south. Elections in 2011 were postponed until April.
Nigeria is Africa's biggest oil producer and the most populous nation of about 170 million.
ksb/cmk (Reuters, AFP, AP, dpa)