Hardliner Dervis Eroglu has won the election for president in the breakaway republic of Northern Cyprus, in an outcome that could stall talks aimed at bringing the Turkish and Greek sides of the island together.
A spokesman for the Greek Cypriot government, Stefanos Stefabou, called Eroglu's election a "negative development."
"Taking into account the declared positions of Mr Eroglu against a federation, and for the establishment of two independent states in Cyprus, this could cause very serious problems for the (peace) negotiations," Stefanou told reporters in Nicosia.
Eroglu, leader of the National Unity Party (UBP), has said he favors a two-state confederation. However, he has also said he would not abandon the reunification talks.
"Talks will continue because I want peace more than those who say that I don't," Eroglu told supporters after declaring victory. "I seek a solution based on the realities of the island and a solution that all of us can live with."
Around 164,000 people out of the 250,000 population of the island were eligible to vote. Turnout was reported to be about 75 percent.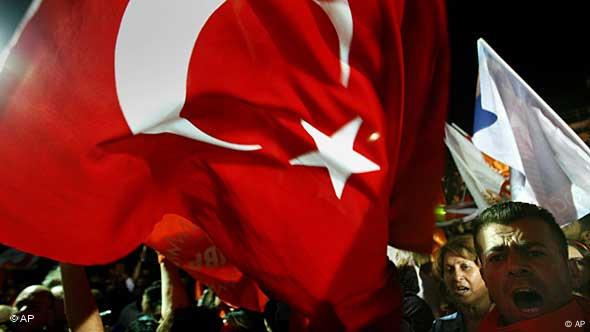 Turkey is the only country to recognize the Turkish Cypriot government
Reunification 'a steep and uphill push'
Analysts have said the election results would likely delay reunification efforts, and that leaders may have to lower their expectations if they want to find a solution that can be agreed on by both sides.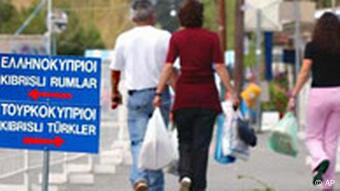 Cyprus has been divided since 1974
"Nobody is going to walk away from the table, but this makes reunification a steep and uphill push," said Hugh Pope, Turkey-Cyprus director for the International Crisis Group. "Everybody will have to think again and find a way forward."
Cypriot voters on both the Greek and Turkish sides would have to approve any deal between their leaders in a referendum.
Peace talks on hold
With 95 percent of Sunday's vote counted, Eroglu won slightly more than the 50 percent needed to avoid a runoff against incumbent President Mehmet Ali Talat. Talat received 42.8 percent of the vote.
Talat, leader of the left-leaning Republican Turkish Party (CTP), supports reunification of the island, which has been divided into the Greek south and Turkish north since 1974.
Turkey is the only country that recognizes the government of the self-declared Turkish Cypriot state, which it has occupied since 1974. Ankara still keeps some 35,000 troops on the Mediterranean island.
The Greek Cypriot government represents the island in the European Union, and says it will continue to block Turkey's attempt to join the EU as long as the island remains divided.
The United Nations-led peace talks on the Mediterranean island were on hold during the election campaign.
cb/acb/svs/AFP/AP/Reuters/dpa
Editor: Chuck Penfold