In 1989, communist dictatorships in Eastern and Central Europe collapsed one after the other. But one ruler appeared to have provided for eternity: Romania's leader Nicolae Ceausescu.
In the early 1970s, he turned Romania inside out, North Korean-style. All key party and state positions were filled by family members or loyal comrades close to the leader. His wife Elena was deputy prime minister, his son Nicu destined to inherit the "throne." The dreaded Securitate secret police seemed to be almighty. Romania had become frozen into a giant panopticon.

The only way Romanians could get information about what was really going on in their country and neighboring communist countries was by listening to foreign radio and watching foreign TV broadcasts. Officially banned, people still tuned in to Radio Free Europe, Voice of America, BBC and DW. Increasingly, hosts on these broadcasters' Romanian language programs would read letters written by desperate Romanians and smuggled to the West across the hermetically sealed border under adventurous circumstances, often by foreign journalists.

An uprising turns political
Laszlo Tökes, a Reformed Church minister from Timisoara in western Romania, was one of the few who dared raise their voices against Ceausescu's politics. A member of the Hungarian minority in Romania, the pastor used his sermons to criticize an urban planning program known as "systematization" in particular. Ceausescu planned to tear down about 7,000 villages in order to create huge agricultural centers where people would be crowded into housing blocks, practically destroying the villages' material and cultural foundations.
Tökes soon recognized that the project would threaten the Hungarian minority's very existence, so he openly opposed it from the pulpit. He voiced dissatisfaction in a clandestine interview with two Canadian reporters, broadcast by a Hungarian TV station in the summer of 1989.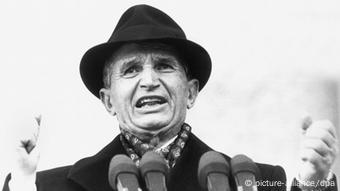 Nicolae Ceausescu was executed on December 25, 1989
The interview caused a stir among Romania's party leaders. The historically charged relationship between the two neighboring states Hungary and Romania was beyond tense. Ceausescu imagined a conspiracy initiated by Budapest and ordered Tökes banned from Timisoara to a small village. On December 15, hundreds of people gathered in front of the pastor's house to protect him from the Securitate's grasp. The open solidarity spread across the entire city and led to a nationwide uprising against the dictator. "A revolt motivated by religion turned political, a Hungarian incident became Romanian," says Radu Preda, who heads Romania's Institute for the Investigation of Communist Crimes and the Memory of the Romanian Exile (IICMER).

Seven rockets aimed at Hungary

Arpad Szöczi, a Hungarian-Canadian journalist and author, organized the interview with Tökes. In his book 'Timisoara - The Real Story Behind the Romanian Revolution,' Szöczi describes what happened back then. Initially published in English and Hungarian, the third printing is in Romanian and will be released this month. The book is bound to provoke controversial debate in Romania.
After many years of research in the archives of the Hungarian and Romanian intelligence services, the author found explosive information that was never made public: Ceausescu is said to have told the armed forces in western Romania to train rockets on Hungary so they could hit back in case of an intervention by the neighboring country.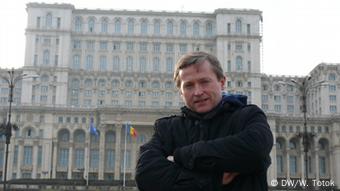 Relentless research: Arpad Szöczi
A Hungarian secret agent made a note of the rocket information, and it was confirmed by then Prime Minister Miklos Nemeth, says Szöczi, who currently lives in Berlin and has been reporting on the events as a TV reporter for DW. According to intelligence reports, Romania bought seven Chinese-built rockets via Arab go-betweens and aimed them at Hungary's Paks nuclear power plant.
Nemeth, Hungary's Prime Minister from 1988 to 1990, was a key figure in the country's political change that led to the fall of the Iron Curtain. Back then, there was concern that destroying the nuclear power plant could result in an even greater disaster than in Chernobyl in 1986, he told Szöczi. Nemeth said he discussed the possibility of removing Ceausescu with the Polish leadership and Soviet leader Mikhail Gorbatchev. He also said he got in touch with Victor Stanculescu, a Romanian general who played a key role in Ceausescu's downfall.

Hungarian agents in Romania

Nemeth confirmed more of the author's research. The Hungarian secret service is said to have sent several dozen agents to Romania in 1989 - some of them for pastor Tökes' protection.

So far, however, Szöczi has not found any corroborating information in the Securitate's archives. The Romanian secret service's operation against Tökes was so secret that few notes were taken. "There's not a word about the November 2, 1989, attack against Tökes by four masked men armed with knives we can assume were Romanian agents," Szöczi says.

Arpad Szöczi presents his book in Romanian on December 19 in Timisoara, the city where the bloody uprising against the communist dictatorship began 25 years ago. The Securitate shot dozens of people there alone; more than 1,000 died nationwide. On December 22, 1989, Nicolae Ceausescu and his wife Elena fled Bucharest in a helicopter. They were captured that same day and tried, convicted and shot by a firing squad on December 25 of the same year.