Scientists have found that a soil bacterium, Eleftheria terrae, produces a new antibiotic agent called Teixobactin, which can kill off pathogens that have long been resistant to other antibiotics. Teixobactin can kill tuberculosis pathogens and MRSA germs, the multi-resistant bacteria that can spread in hospitals.
Multi-talented antibiotic
Researchers from Germany, Great Britain and the US have published their discovery in the academic journal "Nature". The title of the article sounds promising: "A new antibiotic kills pathogens without detectable resistance."
The new antibiotic works on a broad spectrum of pathogens, and kills bacteria in a slightly different way from previous medication. It attacks the cell wall of bacteria, just like other antibiotics. But it doesn't use just a single mechanism to damage the cell wall's structure.
"It attacks at different spots, in different ways," Tanja Schneider from the University of Bonn said. "This makes it almost impossible for bacteria to become resistant."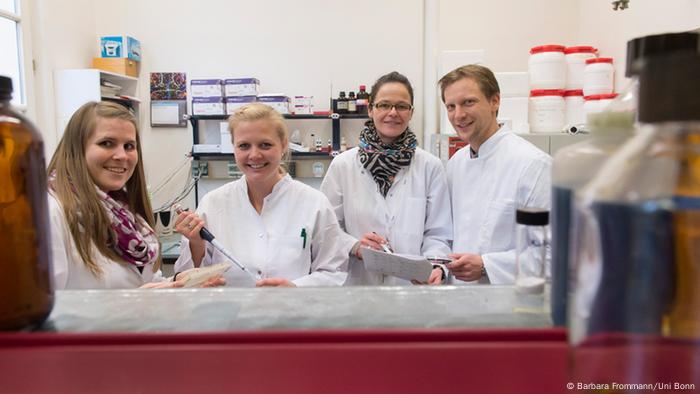 Tanja Schneider (second from right) and her team were among those who discovered the new antibiotic
Not yet tested on humans
To keep up with the multiple attacks, bacteria would have to change in multiple and exactly the right ways to become resistant. That sounds unlikely, but no one can say whether pathogens might not find a way in a few years or decades to do it anyway.
The new antibiotic has so far only been tested on mice, but with promising results. Schneider, who was one of the authors of the "Nature" article, said: "Antibiotics with new modes of action are a breakthrough for science."
No matter how great the excitement in the scientific community, it still has to be tested whether the antibiotic works on humans - and whether it works without side effects serious enough to rule out its use. Given the time required for clinical trials, the earliest Teixobactin could be available is six years from now.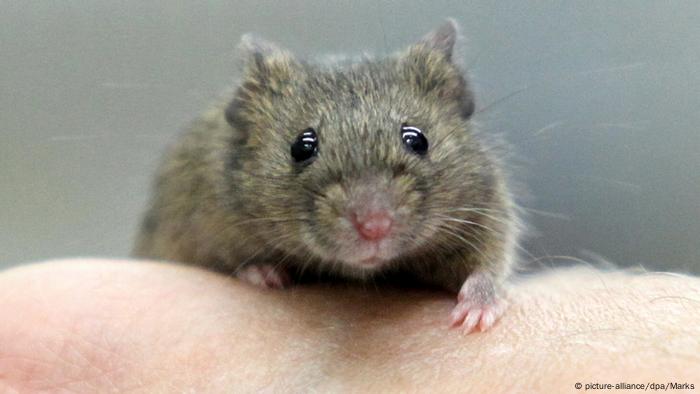 Will Teixobactin have the same effect on humans that it has on mice?
A promising new process for cultivating microorganisms
Even if Teixobactin proves unable to fulfill the researchers' high expectations, the newly published study could still represent a huge step forward in the search for new antibiotics.
Aside from the Eleftheria terrae bacterium that's the basis of Teixobactin, scientists can now also research many other bacteria and funguses that could potentially create antibiotics.
Until now, it has been impossible to cultivate the great majority of bacteria - about 99 percent - in lab conditions. But for their Teixobactin study, the researchers developed a new method to cultivate bacteria and funguses. They let them grow in soil for a while, and then harvested them. A much better success rate was achieved. The new cultivation method should allow many new candidates for antibiotics to become available for testing.