Dutch crime journalist Peter R. de Vries was fighting for his life after being shot and wounded in a gun attack in the center of Amsterdam on Tuesday evening.
De Vries, 64, was taken to hospital in a seriously wounded state. He had been taking part in a live television show where he was a regular guest and was shot close to the RTL studios.
What we know about the shooting
Unverified footage shared on social media showed de Vries lying on his back with blood on his face.
The attack happened at around 7:30 p.m. local time (1730 UTC).
Eyewitness testimony indicated that de Vries may have been shot at up to five times, including a shot to the head. DW correspondent Max Zander said many people had already laid flowers at the site where the shooting took place.
Police said three people were arrested shortly after the attack, but one was released as having nothing to do with the shooting.
Two suspects remained in custody Wednesday: a 35-year-old Polish citizen living in the Netherlands and a 21-year-old Dutch man.
They are scheduled to appear in court on Friday.
Police have so far given no motive for the attack.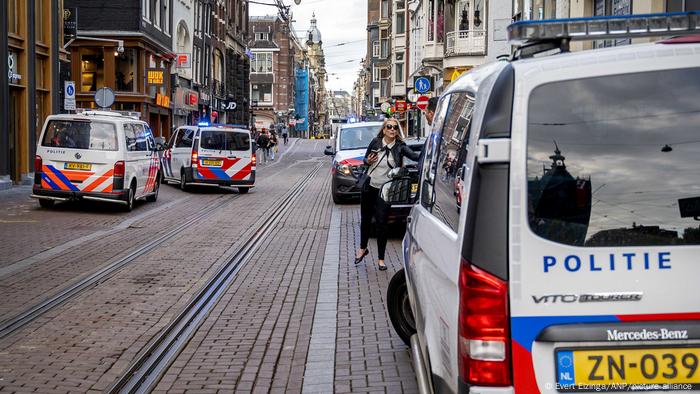 The shooting took place near RTL television studios on the Lange Leidsedwardstraat street in the city center
On a hit list
In 2019, de Vries wrote on Twitter that he had been informed by police and justice officials that he was on the hit list of a fugitive criminal.
According to NOS, de Vries had recently acted as an adviser and confidant to a state witness testifying against an alleged drug kingpin, who was extradited to the Netherlands from Dubai in 2019.
Authorities on Tuesday night declined to comment on whether de Vries received police protection.
Who is de Vries?
De Vries has built his reputation by fearless reporting from the Dutch underworld.
From 1995 to 2012, he hosted a highly popular Dutch television crime program that covered high-profile cases.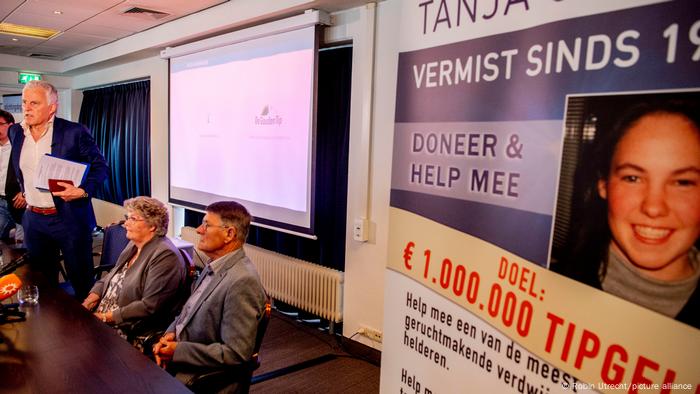 De Vries' recent work inlcuded investigations of the 1993 disappearance of Tanja Groen
De Vries is also known for his investigative work following the 1983 kidnapping of beer magnate Freddy Heineken. A novel he later wrote pertaining to that case was adapted for the screen into the 2014 film "Kidnapping Freddy Heineken" starring Anthony Hopkins.
He won an International Emmy Award in 2008 for a television show he made about the disappearance of US teenager Natalee Holloway on the Caribbean island of Aruba in 2005.
Leaders, reporters slam attack on de Vries
Michel Kerres, the diplomatic editor of Rotterdam-based newspaper NRC, told DW that the reporter was "the best-known journalist" in the country and has "a lot of enemies."
Amsterdam Mayor Femke Halsema told reporters that the investigative journalist was "fighting for his life." Halsema described de Vries as "a national hero for all of us, a journalist of uncommon courage."
Outgoing Prime Minister Mark Rutte called the shooting "shocking and incomprehensible."
"It's an attack on a courageous journalist and by extension an attack on the freedom of the press, which is so essential for our democracy and the rule of law," Rutte said.
Justice Minister Ferd Grapperhaus spoke of a "black day," both for those close to de Vries and for freedom of the press.
King Willem-Alexander and his wife Queen Maxima shared a message of solidarity on Facebook saying, "Journalists must be free to carry out their important work without threats."
European Council chief Charles Michel condemned the shooting and stressed the importance of a free press.
"This is a crime against journalism and an attack on our values of democracy and rule of law. We will relentlessly continue to defend the freedom of the press," he wrote on Twitter.
The German Journalists' Association (DJV) said the attack "was intended to silence critical and courageous journalism."
"This was a deliberate attempt to intimidate journalists who report on organized crime," DJV chairman Frank Überall said in a statement.
De Vries' family gave thanks for the outpouring of support amid the uncertainty surrounding his health. "Our worst nightmare came true yesterday," his son, Royce de Vries, said on Twitter.
fb, tj, msh/sms (Reuters, AP)