Israeli Prime Minister Benjamin Netanyahu's son has come under for posting an anti-Semitic meme on his Facebook page.
Yair Netanyahu's meme, which was aimed at his father's political opponents, was slammed by them and others but was also applauded by anti-Semites including the former head of the Ku Klux Klan (KKK).
Avi Gabbay, the chairman of the opposition Labor Party, told Army Radio Sunday that the post "crossed every line imaginable" and called it a "very sad" day for Israel.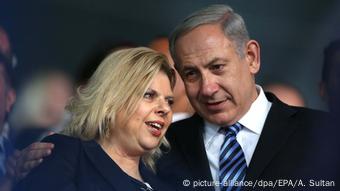 Prime Minister Benjamin Netanyahu and his wife Sara
"This caricature is repulsive and it comes from the Israeli prime minister's home," Isaac Herzog of the center-left Zionist Union party said on KAN radio. "The caricature must be deleted."
The meme posted Saturday by the 26-year-old Netanyahu shows American Jewish billionaire George Soros, and a figure that resembles Nazi depictions of world Jewry manipulating former Prime Minister Ehud Barak and a pair of weekly protest leaders who are calling on Prime Minister Netanyahu to step down amid intensifying corruption allegations.
"Is that what the child hears at home? What is this, genetics or a spontaneous mental illness?" Barak, the former prime minister, said Saturday night on Twitter. "In any case it doesn't matter. We should fund a psychiatrist for him, not his security guard and chauffer."
The young Netanyahu has previously drawn criticism for living a life of privilege at taxpayers' expense and for his crude social media posts.
Supported by the KKK
David Duke, the former Grand Wizard of the KKK, shared Netanyahu's post, as did other anti-Semites.
Duke wrote on Twitter: "Welcome to the club, Yair."
The Israeli chapter of the Ant-Defamation League (ADL) also slammed the young Netanyahu's post, tweeting in Hebrew that the caricature "contained clear anti-Semitic elements. The danger of anti-Semitic discourse should not be downplayed," reported the Israeli newspaper Haaretz.
Prime Minister Netanyahu refused to address the meme during a cabinet meeting on Sunday morning. "This isn't a press conference, but thanks for asking," he told an Army Radio reporter who raised the question.
The younger Netanyahu has also become an active right-wing voice, trumpeting his father and bashing critics. Last month, Molad, a left-wing Israeli think tank, filed a lawsuit against him for libel after he called the group a "radical, anti-Zionist organization" on Facebook.
Yair Netanyahu's latest rant comes at a time when the family is increasingly under siege by criminal investigations.
Prosecutors have questioned the prime minister over his relationships with international business executives, as well as those in the media and Hollywood. His associates are under investigation in a possible conflict of interest case surrounding the $2 billion purchase of German submarines.
And Israel's attorney general recently announced that Netanyahu's wife, Sara, is facing a fraud investigation for run-away household expenses.
bik/rc (AP, dpa)