For the first time in her two-and-a-half-year trial, alleged neo-Nazi terrorist Beate Zschäpe has made a personal statement in front of the Munich courtroom where the trial of alleged members or accomplices of the "National Socialist Underground" (NSU) is taking place.
One of Zschäpe's lawyers, Mathias Grasel, read a 53-page statement on her behalf. It began by describing Zschäpe's childhood in former East Germany - with an absent father and an alcohol-abusing mother - before addressing her shift into the right-wing scene in Germany.
The NSU is believed to be responsible for, among other crimes, ten murders that mostly targeted people with a migrant background. Many relatives of the NSU murder victims traveled to Munich to hear Zschäpe's statement firsthand. On Wednesday, she said "I sincerely apologize to the victims and their families," and added she felt "morally guilty for not preventing ten murders."
At the conclusion of Zschäpe's statement, a lawyer for the victims' families, Mehmet Daimagüler, told reporters "I don't believe a word she said."
"My clients wanted to find out why their fathers, husbands, and brothers had to die. Ms. Zschäpe didn't say anything about that," Daimagüler added.
Another lawyer for the victims, Stefan Lucas, said "if that's all Ms. Zschäpe had to tell us, she should have just said nothing."
'No prior knowledge' of NSU crimes
Zschäpe's statement indicated she only knew of each crime committed by two other principle members of the terror cell, Uwe Böhnhardt and Uwe Mundlos, after they had been committed and the two men had told her. In addition to the murders, which took place between 2000 and 2007, the NSU is believed to be responsible for two bomb attacks and a series of robberies.
When the robberies started but before the murders began in 2000, Zschäpe said she consulted a lawyer recommended by a friend from the right-wing scene. Given her involvement in the actions of Böhnhardt and Mundlos, which included renting a garage where the group stored propaganda material and explosives, the lawyer said she faced at least ten years in prison.
When she brought up the possibility of going to the authorities, Böhnhardt and Mundlos said they had made a pact to kill themselves rather than be taken by police. Zschäpesaid she more or less felt between a rock and a hard place, as "the two men could live without me, but I couldn't live without them."
According to her testimony, the fact that her friends could carry out the murders left her numb and in disbelief – at one point she was drinking three to four bottles of sparkling wine per day and neglecting the cats – but she couldn't bring herself to turn Böhnhardt and Mundlos in.
Zschäpe admits to arson
On November 4, 2011, Böhnhardt and Mundlos apparently killed each other in a mobile home that was then set on fire, having realized police were on their trail following a botched bank robbery. Zschäpe said she heard of their deaths on the news, realizing "the day she had always feared had come."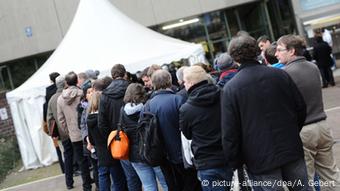 The line was long to get into the courtroom ahead of Zschäpe's statement
Prior to their deaths, Böhnhardt and Mundlos had asked her to release a DVD they had made with details about the murders. They also told her to dispose of all evidence in the apartment the three shared in the event they were killed.
Zschäpe admitted to setting the apartment in Zwickau on fire and claimed she made every effort to warn other residents in the house by ringing the doorbell or knocking to see if anyone was home. She is accused of setting the fire despite knowing that a handyman working on the top floor would be in danger. Zschäpe denies this, saying she had called out to see if anyone was there, and hearing no response, carried on with her plans.
NSU on trial
Zschäpe is the main suspect on trial, but four additional defendants suspected of assisting the NSU are also being tried.
Zschäpe denied that the NSU ever existed as an organized group or that she was or is a member, saying it was entirely Mundlos's idea to name the group such and that Böhnhardt is the only other person who could be considered a member. She also said she did not identify with the ideological motives of Böhnhardt and Mundlos.
Looking back, Zschäpe said she wished another acquaintance of the group, Timo Brand, had been captured by police earlier. This may have placed authorities further on the trail of Zschäpe, Böhnhardt and Mundlos. She said she wished the crimes had never occurred.
After Grasel finished reading Zschäpe's statement, the court took a recess and returned about an hour later. Grasel then submitted a motion that Zschäpe's other three defenders be relieved of their duties - Zschäpe no longer communicated with them and they were not involved in writing Wednesday's statement. After the motion was filed, the court adjourned.
A court session planned for Thursday has been called off so to judges can review Zschäpe's statement and prepare questions; Zschäpe's lawyers have requested that these be presented in written form to be answered at a later date. This will likely occur next week. No questions will come from the prosecution.
Upon entering the courtroom on Wednesday, Zschäpe had a smile on her face as she spoke with her lawyers while taking a seat. She made no effort to turn away from the row of photographers in front of her. In the past, Zschäpe has generally turned away from the cameras.
Have something to say? Add your comment below.